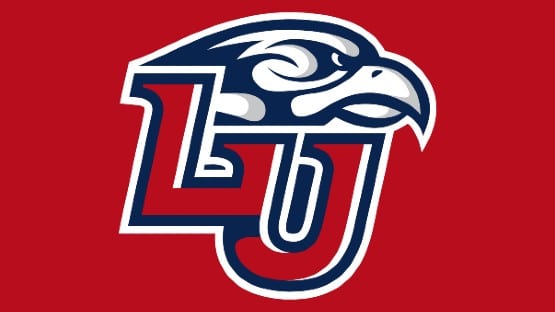 Liberty won on the road at Austin Peay, 82-70, on Thursday night, extending the Flames' ASUN win streak to seven games.
Liberty (19-5, 10-1 ASUN) never trailed, shot 54 percent from the field for the game, and led 37-23 at the half because the Flames held the Governors to 26.9 percent shooting in the opening 20 minutes.
A balanced Liberty attack featured five players in double figures, led by Darius McGhee's 18 points. McGhee is up to 2,365 career points and only needs nine more points to become the program's new all-time leading scorer. He trails Karl Hess (2,373 points, 1977-80) by eight points.
Joining McGhee in double figures were Shiloh Robinson (16 points), Blake Preston (12 points), Kyle Rode (12 points) and Joseph Venzant (10 points). Freshman point guard Colin Porter matched a career high with nine assists in the game.
The Flames remain in a tie for first place in the ASUN with Kennesaw State at 10-1. The Owls (18-6) topped Bellarmine 90-84 on the road in double overtime tonight to keep pace with Liberty.
"I think our guys did a lot of good things," Liberty coach Ritchie McKay said. "I've seen a myriad of games so the other way for the home team when they're scoring the ball at the rate they're scoring it in the second half. I thought our guys shared it, thought we played fairly well and took care of it decently. I think we're a little better defensively than we showed. I'm happy to come away with any road win."