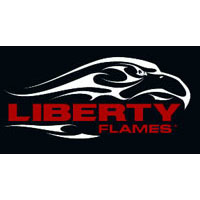 Following their third win in a row, Liberty's football program is back in both FCS national polls, which were released earlier today.
The Flames are ranked No. 22 in the latest Sports Network poll, moving up two spots from last week's national media listing.
Liberty is ranked No. 23 in the latest FCS Coaches poll, joining No. 24 Missouri State and No. 25 Charleston Southern as the newest additions to the coaching ranking this week.
Liberty is coming off a 38-21 victory over Bryant, who was ranked No. 25 in last week's FCS Coaches poll.
The win was Liberty's second in a row over a nationally ranked team and the third over a top 25 program in three seasons under head coach Turner Gill.
The rankings are the highest for the Flames since Liberty entered the final game of the 2011 season ranked No. 16 in both national polls.
Liberty will travel to Terre Haute, Ind., this weekend to face Indiana State at Memorial Stadium on Saturday at 3 p.m.
The Sycamores, who had last weekend off, are coming off a 27-20 victory over FBS program Ball State on Sept. 13. Indiana State enters the game with a 2-1 record this year and will be looking for their second home win in 2014.