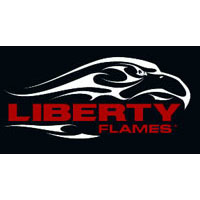 Following a victory over No. 2/1 Coastal Carolina in Conway, S.C., Liberty has moved back inside both FCS top 25 polls heading into the first round of the NCAA FCS Playoffs.
Liberty is ranks No. 20 in this week's Sports Network poll and No. 23 in the latest FCS Coaches listing.
On Saturday, Liberty concluded its regular season with a 15-14 upset victory over Big South rival Coastal Carolina at Brooks Stadium. The Chanticleers entered the week ranked No. 2 in the Sports Network poll and No. 1 in the FCS Coaches listing.
The win gave Liberty a share of the Big South Conference title, the program's seventh league championship. The victory gave Liberty the league's automatic bid to the NCAA FCS Playoffs for the first time in program history.
The one-point victory accounted for the first time Liberty has defeated the No. 1 in the country in any program in athletics department history since making the move to NCAA Division I level in 1988.
This marks the third week during the 2014 season the Flames have been nationally ranked. Liberty was ranked No. 24 in the Sports Network poll during the third week of the regular season and No. 22/23 following a 38-21 home win over No. 25 Bryant (Sports Network ranking) during the fourth week of the year.
The No. 20/23 Flames will play their first-ever NCAA FCS Playoff game on Saturday when they travel to Harrisonburg, Va., to face No. 15 James Madison. Kickoff from Bridgeforth Stadium is set for 4 p.m. and the game will be broadcast on ESPN3.