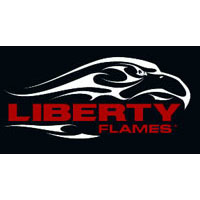 Liberty football coach Turner Gill has announced the hire of Scott Downing as new running backs coach and special teams coordinator.
"Scott is a phenomenal teacher, not only athletically for our team, but also spiritually, academically and socially," stated Gill. "Scott has done a tremendous job with special teams wherever he has been."
Downing brings over three decades of NCAA coaching experience with him to Liberty, including seven years as a head coach and 14 years as a coordinator. He has worked at the FBS level for 26 years, helping coach his teams to 17 bowl appearances.
Prior to joining Gill's staff at Liberty, Downing spent the 2015 season as the special teams coordinator for the Canadian Football League's Toronto Argonauts. The Argonauts finished the season with a 10-8 record, advancing to the CFL's Eastern Semi-Finals game.
Under his guidance, Toronto had the No. 1 and No. 3 punt returners in the CFL in 2015. The Argonauts also ranked No. 2 in the CFL in punt return defense and No. 3 in kickoff return defense and punt returns.
Downing's last collegiate coaching stop was at Tulsa where he served as assistant head coach, special teams coordinator and tight ends coach. The Golden Hurricane advanced to the Armed Forces Bowl in 2011. In 2012, Tulsa claimed the Conference USA title with a win over UCF in championship game and defeated Iowa State in the Liberty Bowl.
While at Tulsa, Downing helped placekicker Kevin Fitzpatrick earn Conference USA all-conference honors in 2011 and finish his career as the program's all-time scoring leading with 299 career points.
Prior to his days at Tulsa, Downing served as head coach at Northern Colorado for five seasons from 2006-10, helping Northern Colorado during its first years at the FCS level and in the Big Sky Conference.
Downing coached nine All-Big Sky performances the Bears ranked No. 22 in the country in passing offense in 2008 (245.09 yards per game).
Gill and Downing were both a part of the Nebraska coaching staff during Gill's final two years with the Cornhuskers (2003-04). Downing served as recruiting coordinator and tight ends coach from 2003-05.
Downing helped Nebraska win a pair of Alamo Bowl games during his three seasons in Lincoln, Neb., defeating Michigan State in 2003 and Michigan in 2005.
Downing worked with punter Kyle Larson at Nebraska, helping him earn All-America honors and be a finalist for the 2003 Ray Guy Award (top punter in the country).
Downing's recruiting efforts paid off for Nebraska, as the Cornhuskers had the No. 5 recruiting class in the country as ranked by Rivals.com. Nebraska also had a pair of freshman All-Americans in 2003 and 2004.
Downing spent six years at Purdue, serving on staff as assistant head coach, special teams coordinator and running backs coach from 1997-2002.
Purdue had six-straight bowl appearances during Downing's time with the Boilermakers. The team posted bowl wins over Oklahoma State and Kansas State in the Alamo Bowl in 1997 and 1998, as well as in the Sun Bowl over Washington in 2002.
Under Downing's guidance, Purdue kicker and punter Travis Dorsch finished his career as the Boilermakers' all-time leading scorer with 355 career points. Dorsch was a consensus All-American in 2001 and won the Ray Guy Award. Downing's special teams' unit set 37 team and individual records during his coaching days at Purdue.
During the 2002 season, Purdue running back Joey Harris rushed for 1,115 yards and eight touchdowns, becoming one of eight 1,000-yard rushers in Boilermaker history.
Downing spent 10 years on staff at Wyoming, serving as linebackers coach from 1987-90, defensive coordinator and linebackers coach from 1991-94 and assistant head coach, special teams coordinator and running backs coach from 1995-96.
Downing helped the Cowboys make four bowl appearances (Holiday Bowl in 1987 and 1988; Cooper Bowl in 1990 and 1993) and win Western Athletic Conference titles in 1987, 1988 and 1993.
Downing broke into the NCAA Division I ranks in 1984, serving two years as a defensive graduate assistant at Nebraska before serving as the head coach of the Cornhuskers' freshman team in 1986.
Nebraska was the Big Eight champions and won the Sugar Bowl in 1984, while the Cornhuskers led the nation in total defense. During his time at Nebraska, Downing coached punter Sam Koch, who was a semifinalist for the Ray Guy Award and current punter for the Baltimore Ravens.
Downing got his coaching career started at his alma mater, Sterling College, serving as offensive line coach in 1980-81 before taking over as the program's head coach for two seasons (1982-83). He was the youngest head coach in the country in 1982.
During his two seasons at the helm of the Warriors' program, Sterling College posted a 13-4-1 record and received the program's first-ever NAIA top 20 national ranking.
Downing was a four-year letterwinner at Sterling College and two-time team captain. He graduated with a bachelor's degree in history in 1979 and was inducted into the Sterling Athletic Hall of Fame in 1996.
The native of Kansas City, Mo., and his wife, Karen, have three sons: Matthew, Andrew and Zachary.