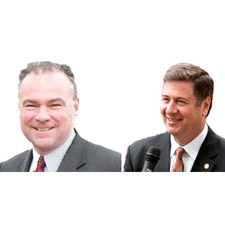 The Tim Kaine U.S. Senate campaign announced today that it raised $1.65 million in the fourth quarter of 2011 and has $3.3 million cash on hand.
Since the campaign kicked-off on April 5, 2011, Kaine for Virginia has raised more than $5.2 million from over 12,000 supporters.
"I'm overwhelmed and sincerely grateful for the enthusiastic support we've received in the first nine months of this campaign," Kaine said in a statement.
"In addition, I am particularly proud of our smart spending in the early stages of this campaign.  Secret money from outside groups running negative, misleading advertisements has already began to pour into Virginia. All signs point to a record-breaking year of spending by outside groups, which makes it even more gratifying that we've been able to attract so much grassroots enthusiasm and financial support for our campaign. Smart spending will ensure we have the resources we need to compete in the home stretch of this campaign," Kaine said.
The campaign of Kaine's chief Republican Senate rival, George Allen, had announced on Jan. 10 that it had raised $1.06 million in the fourth quarter, had raised $4.5 million overall in 2011 and had $2.03 million cash on hand at the end of the quarter.