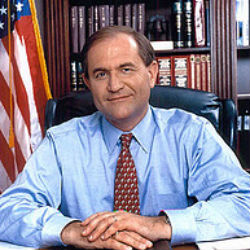 Former Virginia Gov. Jim Gilmore has moxie, or whatever it is that tells you that you're not registering any support in your bid for president, and yet should continue pressing forward.
"I ain't going anywhere," Gilmore said over the weekend, referring not to how his campaign for the Republican Party nomination isn't garnering support, but rather that his campaign that isn't generating support is going to soldier on regardless.
"We are carrying out a strategy," Gilmore said at a GOP event in Hot Springs on Saturday. "We're on the significant early ballots. I'm campaigning vigorously in New Hampshire. And I have the right ideas and credentials to be president."
Gilmore served as governor of Virginia from 1998 to 2002. He ran for the U.S. Senate in 2008, but was trounced in that cycle by another former governor, Mark Warner.