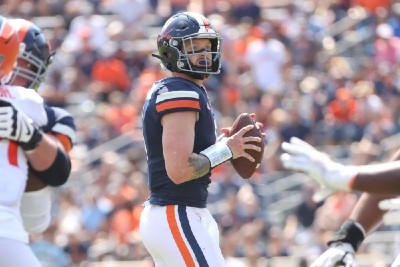 Brennan Armstrong threw for 405 yards and five TDs, and UVA routed Illinois, 42-14, in front of a handful of people for an ACC Network Saturday matinee in Scott Stadium.
Virginia (2-0) scored on its first two drives, inside of the opening five minutes, on TD passes from Armstrong to Jelani Woods and Dontayvion Wicks, and it was 21-7 at the half.
Illinois (1-2, 1-0 Big Ten) cut the margin to 21-14 on the opening possession of the third quarter, on a 21-yard TD run by Chase Brown, but UVA responded with a nine-play, 75-yard drive, capped by a 2-yard TD pass from Armstrong to Billy Kemp IV.
An 8-yard Keytaon Thompson TD run and a 3-yard Armstrong-to-Wayne Taulapapa TD pass closed out the scoring.
Offense Notes
Virginia outgained the Illini 558-289 on the day.
Armstrong was 27-for-36 passing for his 405 yards, a career-high, with the five TDs and one INT. He also gained 31 yards on the ground and had an 18-yard reception, on an option pass from Wicks.
Taulapapa had a team-high 35 yards on 10 carries.
Kemp had six catches on six targets for 55 yards. Woods had five catches on six targets for a career-best 122 yards and his TD.
Thompson had five catches on six targets and added 24 yards on four carries on the ground with the TD.
Wicks had 69 yards on three receptions (on five targets) with two TDs, and the completed 18-yard pass to Armstrong.
Ra'Shaun Henry had three catches on eight targets for 74 yards. Oddly, no TDs.
Defense Notes
Four guys led with seven tackles – linebacker Nick Jackson (also one QBH), linebacker Noah Taylor (also two sacks and one PBU), along with safety Antonio Clary and Joey Blount.
Louisville transfer cornerback Anthony Johnson had five tackles, an INT and two pass breakups.
Linebacker Hunter Stewart had a sack among his three tackles on the day.
Special Teams Notes
Justin Duenkel missed on two field goal tries – from 31 and 46 yards.
Jacob Finn averaged 46.7 yards on three punts.
Neither team had a kick return.
Internal Note
Click here to access my live in-game coverage from the press box.
Story by Chris Graham