The Highland County Arts Council has received its first grant from the Community Foundation of the Central Blue Ridge.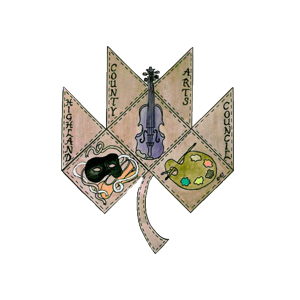 Jason Canze, Chair of the Highland County Arts Council, spelled out the use the Council will make of the funds.
"The Council will dedicate the grant to its efforts to introduce a variety of exceptional performing artists to Highland County Community," Canze said.
"Since receiving the Foundation's grant, the Arts Council has developed its own concert series." Canze promised, "With our upcoming concert series, children and adults alike will be able to experience professional musicians, storytellers and even puppeteers without travel to larger cities."
He added, "We are certainly grateful for this opportunity and we wish to thank the Community Foundation of the Central Blue Ridge for making it possible."
The Council's series will begin on Saturday, July 29 with the nationally recognized and award winning Barefoot Puppet Theatre.  The Virginia Commission for the Arts touring artists will do a puppetry workshop, Meet the Puppets at the Highland County Library at 10 am.  At 2 pm a performance of African Trickster Tales will be presented at the Highland Center.
On August 3, musicians from the Garth Newell Emerging Artist Fellows program will present a concert of classical music.
The Synetic Theatre will bring The Music Box to the Highland School on September 19.  It will be followed by a music legend Wayne Henderson, and fiddler, composer and folk singer Helen White with an afternoon of traditional and Appalachian music on Sunday, October 8 at the Highland Center.
The Arts Council will celebrate its 25th anniversary on Sunday, November 5 with a concert by the Richard Williams Trio.  Joining the trio will be local performers who represent the wide- ranging pool of talent in Highland County.
Completing the series will be jazz singer Stephanie Nakasian and her trio on April 14 and Eve Watters, storyteller and harpist on May 8 at the Highland Center
The performances are also supported by grants from the Virginia Commission for the Arts and the National Endowment for the Arts.  A small admission fee will be charged to cover the full costs of these outstanding performers.
For more information, check the Highland County Arts Council website at www.highlandcountyartscouncil.com.