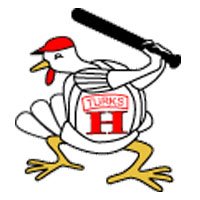 Jesse Baker hit a walk-off double to the left field corner to cap a 6-5 win for the Harrisonburg Turks over the Woodstock River Bandits in eleven innings.  This is the fourth walk-off win of the season and the fourth win in a row for Harrisonburg.
An explosion of runs in the seventh inning broke open a 1-1 tie.  In the top of the frame, Woodstock used a Will Malbon 2-RBI triple and a Dave Hoffmann RBI double to take a 4-1 lead.  Harrisonburg followed in the bottom of the inning with a Thomas Smith 3-RBI double and a Daniel Nichols RBI single to take a 5-4 lead.
The Harrisonburg lead was short lived as Esteban Puerta crushed a solo home run in the top of the eighth inning to left field to tie the game back up at 5-5.
The Turks received a great effort from shortstop Steven McLean who, in addition to flashing the leather defensively, went 3-3 at the plate with a walk and a run scored.  Nichols also went 2-3 with a run and RBI.
Luke Scherzer earned his second win of the year, pitching four and a third relief innings, allowing just one run on two hits and striking out five batters.
The Turks remain in first place with a 23-12 record while Woodstock falls to 13-23.  The Turks travel to Winchester on Monday night to play the Royals at 7:00 p.m.