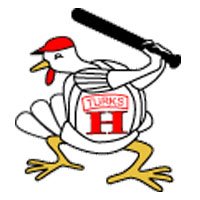 Boone Mokry's dominant pitching performance led the Harrisonburg Turks past the Aldie Senators 6-1 on Monday night.
Mokry threw eight scoreless innings before allowing a home run in the top of the ninth.  He finished having allowed one run on five hits and four walks and struck out three batters.  He earned his first win of the season.
The Turks took the lead in the bottom of the first inning when first baseman Christopher Barr hit his first home run of the season, a solo shot over the right field wall.
Mokry's pitching kept the lead at 1-0 until the sixth when the Turks struck for four runs.  Matt Rose got his 16th RBI of the season, scoring Barr on a single before Thomas Smith, Rose and Brandon Gold all touched home to stretch the lead to 5-0.
This is Harrisonburg's fifth win in a row, the last two of which have come against the Senators.  After beating Aldie 13-3 on Sunday night, this win improves their season record to 12-6.  Aldie falls to 6-10.
The Turks continue a three game home stand on Tuesday night when they host the Charles Town Cannons at7:30 p.m.