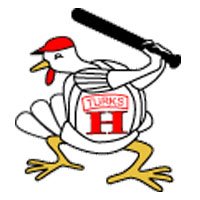 A dominant performance from starting pitcher Ryan Castellanos lead the Harrisonburg Turks past the Covington Lumberjacks 3-1 in Game 1 of the VBL quarterfinals.
Castellanos threw eight scoreless innings in his third start of the year.  He struck out 10 batters without issuing a walk and allowed just three hits, all of which were infield singles.
The Turks held a 1-0 lead through seven and a half innings, but Matt Rose's 2-RBI double off the left center field wall extended the lead to three.  The insurance runs proved valuable in the top ninth inning when Brett Morgan allowed a run off Hayden Platt's RBI double en route to his fourth save of the year.
Harrisonburg broke the scoreless tie in the sixth inning via Daniel Nichols.  Nichols lead off the bottom of the frame with a double to left center.  He advanced to third base on a Nolan Krivijanski wild pitch and then scored on a Shane Castro throwing error on that same play.
The Turks take a 1-0 series lead to Covington on Wednesday night for Game 2 of the quarterfinals at 7:30 p.m. With a win Harrisonburg advances to the semifinals to play the lowest remaining seed.  With a loss, the series returns to Veterans Memorial Park on Thursday night for a deciding Game 3.