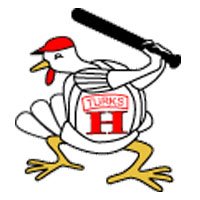 Kevin Lewallyn's complete game shutout powered the Harrisonburg Turks to a 5-0 victory over the Winchester Royals on Thursday night.
Lewallyn worked quickly and pitched well to contact, finishing the game in two hours and 12 minutes, recording just one walk and two strikeouts and allowing no runs on nine hits.  He improves his season record to 3-1.
The Turks took a 1-0 lead in the second inning when Joey Roach's sacrifice fly to right field scored Matt Rose.  Rose had reached base on an error, advanced to second on an Eric Kalbfleisch single and advanced to third on a Brandon Gold fielder's choice.
Harrisonburg extended its lead to 2-0 in the seventh inning on a Luke Czajkowski pinch-hit RBI single up the middle.  Daniel Nichols then reached second base on a ball dropped in shallow left field by the shortstop, allowing Thomas Smith to score to bring the lead to 3-0.  Steven McLean hit a 2-RBI single in the eighth inning to cap the scoring at 5-0.
Luke Mould took the loss for Winchester after allowing three runs on eight hits in six and a third innings.  He falls to 0-2 on the season.
This is the second win in a row for the Turks, who improve to 21-12.  Winchester is 13-21 after the loss.  The Turks return to Veterans Memorial Park on Friday night to host the first place front royal cardinals at 7:30 p.m.