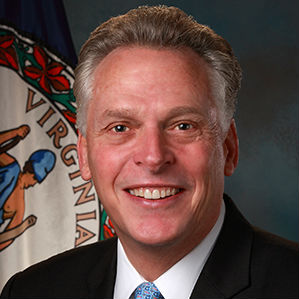 Governor Terry McAuliffe today signed into law measures that establish a workforce training program targeted to increase specific industry certifications and occupational licenses that meet the needs of businesses in each region of the state.
With the new laws, Virginia becomes the first state in the nation to establish a pay-for-performance workforce training program.
Governor McAuliffe also announced that the final two-year state budget contains $20 million in new resources for workforce, including $12.5 million for credential incentives, $6 million for equipment needed by career and technical training programs, and $1.5 million for a veterans' portal to strengthen outreach to this key population.
Speaking at the bill signing, Governor McAuliffe said, "With this new law, we continue the process of transforming our workforce development system from a costly, redundant and ineffective web of programs to the efficient and streamlined skills training engine we need to build a new Virginia economy. I am proud to stand with the bipartisan group of leaders who worked together to make this important bill a law, and I look forward to building on the enormous progress we have made on this issue over the past two years."
Senate Bill 576 and House Bill 66 create the New Economy Workforce Credential Grant Fund and Program. The fund will provide grants covering two-thirds of the tuition for students who are enrolled in a workforce training program designed to fill in-demand jobs in their home region. As an incentive program, the state will pay a third of the costs when students complete the program and make the final payment when they receive a certificate or license. Students will be responsible for the remaining share of the cost.
"This legislation will provide the stimulant needed to jumpstart our community college system's ability to provide the needed skills for today's world," said Senator Frank Ruff. "For too long we have let too many young people fall through the cracks; this will be an opportunity for them to quickly develop skills that will make them contributing members of our communities."
"There is no better investment to ensure our future success than raising the skills of our citizens," said Delegate Kathy Byron. "Today, we are improving the Commonwealth's future prosperity by increasing education and training opportunities for Virginians."
The revolving fund will be administered by the State Council of Higher Education for Virginia.
The grants can be used for programs at any Virginia community college, regional higher education center, the Institute for Advanced Learning and Research in Danville and the New College Institute in Martinsville.
"As we continue to build a new Virginia economy, we must recognize that credentialing and industry certification will be the fastest way to build a workforce that strengthens our economy and ensures a better quality of life for all Virginians," said Senator Kenneth Alexander. "I want to thank Governor McAuliffe and Secretary Holton for their leadership and support in this important endeavor."
"Governor McAuliffe understands that middle-skill jobs are essential to our economic future, and he's put in place a thoughtful plan for making sure our businesses can fill these important positions with well-educated, well-trained employees," said Delegate Matthew James. "As someone who is directly engaged in workforce every day, I am certain that this law will help us increase the number of credentials awarded in the Commonwealth every year."
The law has been endorsed by the Virginia Chamber of Commerce, the Virginia Association of Counties and more than a dozen local and regional chambers and business groups across the Commonwealth.