Governor Terry McAuliffe will co-host the sixth annual 7, 2014 at the Richmond Marriot Hotel. day conference, entitled "Connecting the World to Virginia's Farms and Forests," is co-hosted by Virginia Tech's Department of Agricultural and Applied Economics, the Virginia Department of Agriculture and Consumer Services (VDACS), Virginia Farm Bureau Federation and the Virginia Port Authority (VPA).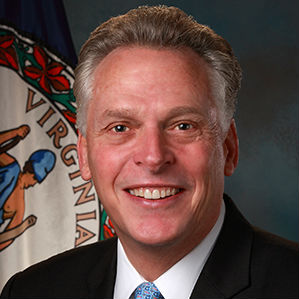 The event will bring together producers, agribusinesses, exporters, foreign ambassadors, embassy ministers, land-grant university leadership, state and federal government officials, and others to discuss challenges and opportunities for global exports.
Workshops and private meetings regarding the international trade of agricultural goods will be held as well.
Governor McAuliffe will deliver the keynote address at the conference on Thursday, March 6 at 12:00 PM.  The Governor will discuss the importance of agriculture and forestry, the state's largest two industries, on the Commonwealth's economy and his plans to make Virginia the East Coast capital for agricultural and forestry exports.  The Governor also will also announce total figures for agricultural exports from Virginia for 2013.  In 2012, the Commonwealth totaled more than $2.61 billion in agricultural exports, an all-time record.  That followed 2011's $2.35 billion figure, the second largest total in history.
Speaking about the conference, Governor McAuliffe said, "The importance of Virginia's agricultural exports continues to grow for our producers and agribusinesses – as well as our overall economy – and the annual conference is an important gathering place and educational forum for both experienced exporters and those wanting to break into the export market.  Agriculture and forestry will play integral roles in my administration's efforts to create jobs and grow and diversify our economy, and I'm looking forward to hosting this conference as part of the work we're doing on behalf of the Commonwealth's two largest industries."
In addition to Governor McAuliffe, the conference is scheduled to feature presentations from, among others:  His Excellency Kenichiro Sasae, Japanese Ambassador to the United States; His Excellency Nguyen Quoc Cuong, Vietnamese Ambassador to the United States; C. Larry Pope, President and Chief Executive Officer of Smithfield Foods; Bob Stallman, President, American Farm Bureau Federation; Tom Capozzi, Chief Commercial Officer, VPA; Richard Crowder, former Chief Agricultural Negotiator in the Office of the United States Trade Representative; and Todd P. Haymore, Virginia Secretary of Agriculture & Forestry.  Speaker topics include: opportunities and overcoming obstacles in global trade, the Trans Pacific Partnership and its implications for agriculture trade, the proposed United States – European Union Free Trade Agreement, trade implications of the soon to-be-expanded Panama Canal, and agriculture and forestry's importance to future growth at the Port of Virginia.
In addition to conference speakers, VDACS international trade and marketing representatives from Canada, Southeast Asia, and Virginia will attend and hold one-on-one meetings with individuals and companies interested in exploring export opportunities in the countries or regions where they are based.
Individuals, groups, and companies interested in participating in the conference may register online athttps://www.signup4.net/public/ap.aspx?EID=GOVE68E&OID=50 or call event coordinator, Christie Young, at804.516.2396.
Agriculture and forestry are Virginia's largest industries, with a combined economic impact of approximately $70 billion annually: more than $52 billion from agriculture and over $17 billion from forestry.  The industries also provide more than 400,000 jobs in the Commonwealth according to the Weldon Cooper Center for Public Service at the University of Virginia.