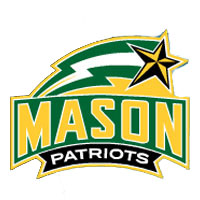 The George Mason men's basketball team handed wright state its first home loss of the season and snapped a four-game win streak for the Raiders, defeating WSU 68-60 Tuesday night in the Nutter Center. Mason, winners of three straight, picked up its first road win of the season behind a career-high 22 points from Isaiah Jackson and Shevon Thompson's third straight double-double to improve to 5-6 on the season.
Mason led by as many as 17 points in the second half as wright state staged a late comeback and drew the game to within two points with just over a minute to play. Over the final eight minutes of the contest, wright state outscored the Patriots, 17-11, but Mason finished strong over the final minute at the free throw line, going 4-for-5 combined with a layup from Jackson to capture the win 68-60.
Mason led 35-28 at the halftime break after shooting 60.9 percent from the field. Thompson led Mason at the break with 11 points as the Patriots out-rebounded the Raiders, 16-8, through the first 20 minutes.
The Patriots shot 52.0 percent from the field and dominated on the glass, winning the battle of the boards, 37-24. Thompson paced Mason with 14 rebounds and collected his fifth double-double of the season with a game-high 24 points. Jackson finished his career-night of 22 points with eight rebounds, one block and one assist while going 6-for-7 from the free throw line. Marko Gujanicic rounded out the Patriots in double-figures with 11 points.
wright state was led offensively by JT Yoho with 16 points, while Joe Thomasson and Steven Davis each added 13 points to the board. WSU shot 40.7 percent from the field and finished 13-for-18 from the free throw line.
Mason takes a short break for the Holiday and returns to action at No. 19 Oklahoma on December 31. Tip time is slated for 5 p.m. EST in the Lloyd Noble Center.