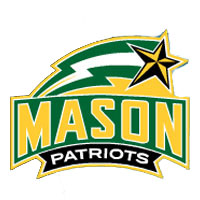 Richmond (11-10, 3-6) pulled to within one possession in the final seconds, but could not overcome George Mason (8-14, 2-7), 78-74, on Wednesday night at the Robins Center.
Junior T.J. Cline scored a career-high 29 points on 10-of-14 shooting, including 6-of-8 from the free throw line. Cline added six rebounds and three assists.
Senior Terry Allen extended his double-digit scoring streak to 31 games, as he scored 16 points with nine rebounds. ShawnDre' Jones had seven assists with six points, while Trey Davis scored nine points.
"I thought we did a good job of extending the game late and giving ourselves a chance," head coach Chris Mooney said. "But it was unfortunate to be in that situation. Mason played tough and made us miss some shots. I thought our defense was good in the first half, but Shevon Thompson was able to get some more buckets in the second half. We have to bear down and dig in and practice well tomorrow."
George Mason was led by Jaire Grayer with 20 points, while Thompson had 13 points and 12 rebounds. Otis Livingston had 18 points.
After the Patriots built an early lead, the Spiders went on an 8-1 run to take a 20-17 lead off a jumper from Cline. After Mason retook the lead, Cline hit a three-pointer and then Jones found Allen on a fast break at the halftime buzzer for a 30-29 lead.
A jumper from Jones and layup from Khwan Fore opened the second half, but then the Patriots used an extended to build a 45-37 lead with 14:10 left. A number of shots rimmed out for the Spiders as GMU slowly pulled to a 12-point advantage with 3:27 left.
The Spiders were able to extend the game late, hitting shots in the lane and forcing a number of late turnovers. Two turnovers in the final 30 seconds gave Richmond life and free throws from Cline and Jones cut it to 75-71 with seven seconds remaining. Cline hit a long three with three seconds left, but the Spiders couldn't steal the inbounds and GMU hit two free throws to clinch it.
Richmond remains at home this Saturday, Feb. 6, for a 6 p.m. game against Massachusetts.