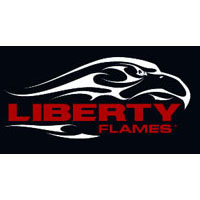 Liberty head football coach  Turner Gill has announced the addition of former Marshall running back Kevin Grooms to the football program.
Grooms transfers to Liberty after being at Marshall for three seasons, including a redshirt year in 2011. The running back will not be eligible to compete for the Flames during the 2014 season. He will have one year of eligibility remaining for the 2015 season.
In two seasons with the Thundering Herd, Grooms played in 21 games, rushing 212 times for 1,240 yards and 14 touchdowns. In 2012, Grooms led Marshall in rushing and started three games as a true freshman. He finished the year with 121 carries for 737 yards and eight touchdowns to help him earn Conference USA Freshman of the Year honors.
The native of Hollywood, Fla., is a high school graduate of South Broward High School where he recorded 2,909 rushing yards, 36 rushing touchdowns, 316 receiving yards and four receiving touchdowns. He also returned six punts for a touchdown.
Head Coach Turner Gill on Grooms' Addition to Team:
"Kevin sought out our football program because he is at a point in his life where he wants to make some positive changes. He believes Liberty University would provide the type of atmosphere that would allow him to be successful in this endeavor. He understands that he will be expected to grow academically, athletically, socially and spiritually. We are excited to have the opportunity to work with Kevin and be a part of his growth and maturity."
"While Kevin has enjoyed success both academically and athletically at Marshall, the thing that made Kevin attractive to us is the fact that he has had some adversity and he wants to make changes in his life. Liberty University is a place that has always offered young people a second change and we are excited to be a part of that process in Kevin's life."