The george mason men's basketball team led by as many as 11 points, but Fordham used a strong second half to come away with a 76-70 Atlantic 10 victory on Wednesday night.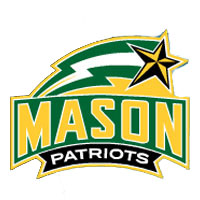 Mason led by one at the break and came out in the second half with a 15-6 run to gain a 46-36 lead with 14:49to play. Fordham would then shoot 70.6 percent from the field and outscore the Patriots 40-24, including a 14-for-18 free throw effort, over the final 14 minutes to take the win.
The Rams would hit back-to-back triples at the eight minute mark to regain the lead for the first time since the first half. Mason would tie the contest twice thereafter, but never regain control as Fordham held its largest lead of six points on several occasions. Patrick Holloway cut it to 70-68 draining a trey with 38 seconds to go, but the Patriots would come no closer.
Branden Frazier led the Rams with 22 points, all coming in the second half, followed closely by Jon Severe with 21 points. Fordham finished shooting 49.0 percent from the field and went 20-for-28 from the charity stripe. Mason was 8-for-11 at the free throw line and finished with a 46.7 percent shooting efficiency.
Mason won the rebounding battle, 37-31, led by Jalen Jenkins with 11 boards. Jenkins once again finished just shy of a double-double with nine points. Sherrod Wright led Mason offensively with 21 points as Bryon Allen added 13 and Erik Copes posted a season-best 10 points in the effort.
Mason fell to 7-12 overall with the loss and 0-5 in A-10 play, while Fordham picked up its first conference win of the season, improving to 8-10 overall and 1-4 in league play.
Mason returns to the Patriot Center on Saturday to welcome local rival george washington for a noon tipoff on NBCSN as part of the Revolutionary Rivalry.