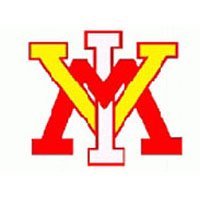 The Southern Conference will host its 2014 Football Media Day on Wednesday (July 23) at the Spartanburg Marriott. All nine head coaches and select student-athletes from each school will be on hand to meet the media and preview the upcoming season.
Following a luncheon Southern Conference Commissioner John Iamarino will address the full group in attendance prior to the open media session.
The afternoon media availability will be streamed live through the Southern Conference web site. All nine head coaches and student-athletes representing each SoCon program will appear on the live stream. The full session will be archived on the SoCon web site.
VMI head coach sparky woods will be joined by redshirt senior outside linebacker Logan Staib and junior wide receiver Sam Patterson for a live interview that can be seen at the SoCon web site Wednesday at 1:15. Click here.
Fans can tweet their questions for Coach Woods and Cadets Staib and Patterson to @SoConSports or they can comment on the SoCon Facebook page: Facebook.com/Southern Conference. They can also e-mail their questions to [email protected] .
Fans can also follow VMI tweets and photos on @VMISID as well as the VMI Athletics Facebook page.
The Media Day interview schedule on SoCon Live Stream.
SoCon Live Stream Schedule:
1:00 p.m. – Live Stream Begins
1:15 p.m. – VMI
1:30 p.m. – Samford
1:45 p.m. – Chattanooga
2:00 p.m. – Mercer
2:15 p.m. – The Citadel
2:30 p.m. – ETSU
2:45 p.m. – Western Carolina
3:00 p.m. – Furman
3:15 p.m. – Wofford