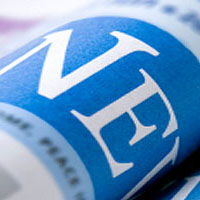 Residents are invited to join candidates for Harrisonburg City Council on Tuesday, September 30 for the first of two candidate forums. The next is on Wednesday, October 15.
The forums are organized by the Downtown Dining Alliance, Shenandoah Valley Bicycle Coalition, Harrisonburg Rockingham Green Network, Better Together / Mejor Juntos, and the Northend Greenway. Both forums are free, open to the public and will start at 7:00 p.m. at JMU's Memorial Hall, which is the former Harrisonburg High School on South High Street.
This is the second time these groups have come together to host candidate forum. Better Together / Mejor Juntos joins the four 2012 sponsors. Just as the groups saw in 2012, all eligible candidates have agreed to take part. The 2014 candidates include (in alphabetical order): Ted Byrd, DD Dawson, Alleyn Harned, Joshua Huffman, Chris Jones and Helen Shibut.
Moderating the non-partisan forums is the 4C Initiative, a partnership between the Fairfield Center and JMU's Institute for Constructive Dialogue and Advocacy. Better Together / Mejor Juntos will interpret the forums in English and Spanish, which forum organizers, hope will encourage greater participation. The format of the forums is primarily question and answer. Citizens will have the opportunity to ask questions to the candidates during the events.
The forums will enable residents to learn about what each candidate stands for by fielding questions on issues regarding Harrisonburg's future. Topics include but are not limited to education, local economy, and transportation.
"Nice places to live, work, and play don't just happen. The decisions we make today will shape the future of our city for years to come," said Pete Bsumek of the Shenandoah Sierra Club and Harrisonburg Rockingham Green Network. Bsumek added, "These forums will help our community think about the future, and will help the city residents to choose leaders who have the vision and ability to make important decisions about everything from ensuring environmental sustainability of our community, to how to support and encourage affordable housing and attract good paying jobs to our area."
Thomas Jenkins of the Shenandoah Valley Bicycle Coalition stresses the events' value. "The candidate forums are great opportunities to hear how your potential Council members think and feel about a range of important topics. We urge every Harrisonburg resident to attend," said Jenkins.
To submit a question or to RSVP to this forum, please visit www.facebook.com/events/1557316534496774.
Title:  City Council Candidate Forums
Date:  Tuesday, September 30, 2014 and Wednesday, October 14, 2014
Time:  7:00 PM
Location:  JMU Memorial Hall Auditorium, 395 South High Street, Harrisonburg, VA 22801
Cost:  Free
Sponsors: Better Together / Mejor Juntos, Downtown Dining Alliance, Harrisonburg Rockingham Green Network, Harrisonburg Northend Greenway, Shenandoah Valley Bicycle Coalition