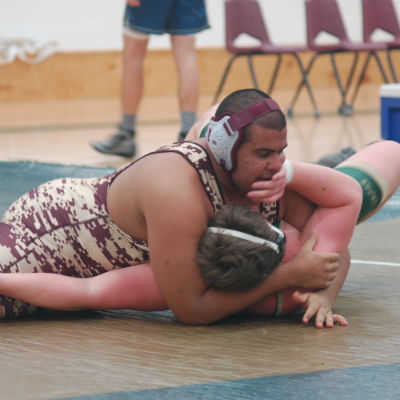 Fishburne Military School wrestlers came out strong against VIC rivals Hargrave, Miller School and Blue Ridge School at a quad event hosted by Covenant School in Charlottesville on Tuesday. The Caissons put forth a total team effort, with wins across multiple weight classes.
First up for Fishburne was Hargrave, where wins by pin came at 120 from junior Thomas Fosdick, 126 from sophomore Matt Farrar, 170 from junior Jacob Randall, senior Christopher Ross at 182, and senior heavyweight Shaheen Alfarhan. Junior Matthew Sim recorded a 5-3 decision at 132. Fishburne beat Hargrave 57-20.
Against a small Miller School team, all of Fishburne's wins came by pin came from Farrar, Sim and Ross, with Fishburne trouncing Miller 66-12.
The final team match-up for Fishburne was against Blue Ridge. Fosdick and Farrar recorded pins, as did Ross, 145 junior Alex Opsahl and 220 senior Aidan Davis. Final team score: Fishburne 69, Blue Ridge 4. "Opsahl is back after a layoff and he wrestled well considering the time off he had," said head Coach Terry Waters.
"I thought we wrestled well tonight," noted Waters. "The guys tried the things we put in to place at practice over the last two weeks and met with success. We're going to keep working hard, stay disciplined and let the wins fall where they fall."
Fishburne (15-4) travels to Newport News on Saturday for the Peninsula Catholic Tournament.