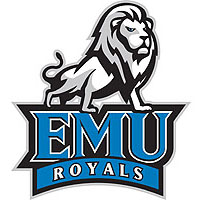 Nora Osei (Springfield, Va./West Springfield) finished off a dramatic night by hitting the game-winner with 2:16 left in double overtime, handing the EMU Royals back-to-back wins in 100+ minutes. EMU's soccer women have now gone into two extra sessions in the last three games, improving to 2-2-1 over that stretch.
Despite playing with just two subs all night against a physical Marymount team, the Royals made the most of their opportunities, scoring twice off of free kicks. Each time midfielder Morgan Hill (Martinsville, Va./Carlisle) started the process.
After giving up a first half goal to the Saints, EMU equalized in the 75th minute. Hill shot a free kick off the post and Sara Shenk Moreno (Harrisonburg, Va./Harrisonburg) was right there to knock in the rebound, tying things at 1-1.
Keeper Becca Borg (Gig Harbor, Wash./Peninsula) made three saves in the overtime sessions, including one in the 106th minute. Just two minutes later Osei ended the game. After an MU foul, Hill again set up a free kick, this time from 35 yards out. Osei made her way through a tangle of players to tap the ball past Marymount's keeper and into the center of the net.
It was the second straight last-second win for the women. Hill scored on a PK with 1:49 left in Saturday's 4-3 win over Hood.
The Saints had a 25-13 advantage in shots, although just 9-7 in attempts on goal. Borg finished with eight saves. Hill had a team high five shots, including three on goal, to go with her two assists. She leads the ODAC with five assists in five games this season.
Eastern Mennonite opens up their ODAC schedule this Saturday, with a tough contest at Washington and Lee. Game time in Lexington is 1:00pm.