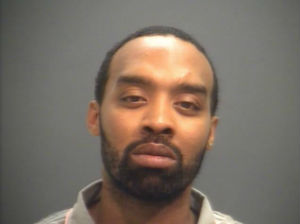 The Waynesboro Police Department arrested a Waynesboro man on multiple charges after a hit and run accident in Downtown over the weekend.
Eugene Fleetwood Kennedy, 36, has been charged with a felony and four misdemeanors after his 2007 Chrysler Sebring collided with a 2006 Hummer H3 at the intersection of Main Street & Wayne Avenue.  He then fled the scene, traveling nearly two miles to his residence.
Just after 1 a.m. on Saturday, officers responded to Quadrangle Apartments on 4th Street.  There they spoke with the 44-year-old victim who told officers he followed Kennedy  after he rear-ended his vehicle.  The victim added that after the collision, he got out to check Kennedy's welfare.  Kennedy said he was unhurt then he said he was going home.  Officers found the vehicle at the apartment complex and saw Kennedy enter an apartment.  However, Kennedy, who was quite intoxicated, entered the wrong apartment so officers were able to detain him.
Kennedy was combative with officers and refused to do any sobriety tests.  Three officers were needed to get him into custody.  Kennedy's combative behavior continued throughout his arrest and transport to jail.
Officers charged Kennedy with the following offenses:
·         Felony Hit & Run
·         DUI/2nd offense in 5 years
·         Refusal of a Breath Test
·         Driving on a Revoked License
·         Resisting Arrest
Neither driver was injured in the accident.  Damages to the two vehicles is estimated at $3,000.  Kennedy is being held without bond at Middle River Regional Jail.