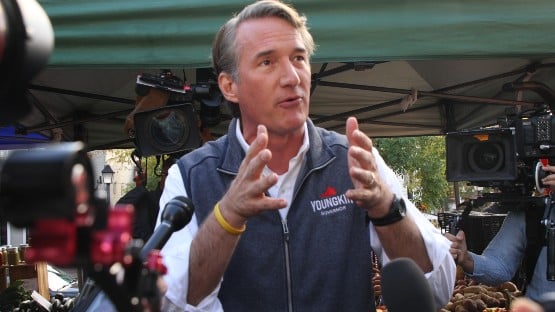 Aaron Rouse's win in the election to fill Jen Kiggans' seat in the State Senate has put the final nail in the coffin on Glenn Youngkin's presidential ambitions.
Rouse, a Democrat, defeated Republican Kevin Adams in the special election in the Seventh District, which represents the Norfolk-Virginia Beach area, giving Democrats a 22-18 advantage in the State Senate.
You could consider that a Joe Morrissey-proof majority. Morrissey, a Richmond Democrat, is sort of the Joe Manchin of Virginia Democratic politics, known for being a bit of a rogue.
In particular, Morrissey had been signaling since the summer that he would be open to working with Republicans on Youngkin's proposed 15-week abortion ban, and in a 21-19 Senate, he would be the Manchin, dragging Democrats toward the center.
Rouse and Adams had both made abortion a centerpiece of the special election campaign, with Rouse running on the message that access to abortion needs to be a priority, and vowing on his website that he would "not compromise" on abortion rights.
Adams, on his side, had made clear that he would vote for Youngkin's proposed 15-week ban, which the governor highlighted in his State of the Commonwealth address Wednesday night, telling legislators that "it is clear Virginians want fewer abortions, not more."
The most recent polling on Youngkin's proposed ban is from Christopher Newport University, which in October found that the ban has the strong support of 26 percent of Virginians, with another 25 percent indicating basic support.
That same poll also had 58 percent opposing the Supreme Court decision overturning Roe v. Wade, and 67 percent saying abortion should be legal in all or most cases.
The proposed ban will no doubt pass the House of Delegates, which has a 52-48 Republican majority, but it's just as certain that it not even see a glimmer of the light of day in the Senate, with Senate Education and Health Chair Louise Lucas (D-Portsmouth) vowing on Twitter on Wednesday that the bill won't even make it out of her committee.
And then consider that the 2023 session is going on in the context of the runup to November's state legislative elections, which will have all 140 seats in the General Assembly – all 100 in the House of Delegates, all 40 in the Senate – up for grabs.
With Rouse giving Democrats a 22-18 edge in the State Senate, Youngkin is going to have to play the compromise game just to get movement on his push for tax cuts.
The abortion ban is an obvious non-starter.
Looking ahead to 2024, then, Youngkin will have nothing to show to Republican primary voters other than a tax-cut compromise, which would have him swimming upstream in the Republican governor lane against a tide of Ron DeSantis and Greg Abbott types who aren't constrained by having to make deals with Democrats.
This all comes down to a pair of narrow election results – Kiggans unseating Elaine Luria for the Second District congressional seat, then Rouse defeating Adams to fill Kiggans' unexpired term.
Youngkin, ahead of the midterms, pushed hard for flips in three Virginia congressional districts with vulnerable Democratic incumbents, with Kiggans the lone prize.
Be careful what you wish for.
This particular butterfly effect has put the kibosh on Youngkin's presidential ambitions, though, to be fair, he didn't have a chance anyway.
It's just that, now, we know this for sure.