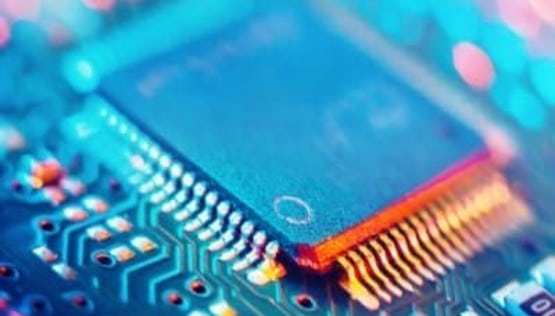 An all-hands-on-deck approach is necessary if the United States is going to participate in semiconductor manufacturing.
Many pairs of necessary hands gathered on July 18, 2023, for the CHIPS for Virginia Summit. Virginia Gov. Glenn Youngkin and U.S. Sen. Mark Warner of Virginia were joined by 150 leaders from higher education, industry and government to discuss the effort needed for the Commonwealth of Virginia and the United States to take the lead in semiconductor manufacturing.
"When you look around this room, what you see is the future," Youngkin said. "The future in academic research and collaboration. The future in industry capabilities. And the future of local, state and federal government in order to bring together all of the elements in an ecosystem that are required for us to not just win, but set the international standard for what a semiconductors industry can be and will be."
Virginia Tech and Northrop Grumman Corp. hosted the summit at Northrop's Falls Church headquarters. Experts discussed a wide range of topics including industry needs, supply chain demands, national security and workforce development.
"Our country is investing in the semiconductor industry to rebuild our prominence, and it is an exciting time to think of the role the commonwealth can play," Northrup Grumman Chair CEO and President Kathy Warden said. "We have been partnering with Virginia Tech and many of the colleges and universities that are represented today, and we want to continue that partnership because it's only through partnership with government, academia, and industry that we can create the tech talent pipeline that we need to continue to fuel both innovation and to secure our nation's future."
A memorandum of understanding was signed for the Virginia Alliance for Semiconductor Technology (VAST).
"None of us can do it alone and, for me, this has been the foundation for orchestrating the formation of the Virginia Alliance for Semiconductor Technology or VAST," VAST's Founding Director Masoud Agah, who is the Virginia Microelectronics Consortium Professor of Engineering at Virginia Tech, said. "If there is a group of leaders positioned to help shape the future of semiconductor technology in Virginia, it is the esteemed group of stakeholders gathered here today."
The federal CHIPS and Science Act passed in fall 2022 with the goal of energizing semiconductor production in the United States.
"If you look back to the mid-'90s, the United States dominated the semiconductor industry. About 37 percent of all chips were made in America at that point. Today it's down to about 12 percent," Warner, who introduced the CHIPS and Science Act with Sen. John Cornyn in 2020, said. "This VAST partnership is so terribly, terribly important."
The CHIPS alliance will be headquartered at the Virginia Tech Research Center in Arlington with $3.3 million from a Growth and Opportunity for Virginia (GO Virginia) grant.
"We envision the alliance as a platform for future programs that benefit our partners and Virginia's semiconductor industry by attracting federal funding and private sector investment, growing a robust semiconductor startup and innovation ecosystem, and developing internship, scholarship, fellowship, and apprenticeship opportunities in semiconductor and related fields for Virginia students," said Virginia Tech President Tim Sands.
VAST includes an adult learning program for continuing professional development: Fast Track to Semiconductor Careers, a 10-week, certificate-based program in which approximately 300 will enroll each year. Preference will be given to U.S. military veterans and underrepresented populations. The program's goal is to train 600 adult learners, award 550 certificates and create 100 internships during the full two-year grant.
Kevin Crofton, a 1983 Virginia Tech graduate with more than 30 years of experience leading companies and partnerships in the semiconductor industry, said the industry really has two needs — research and development and access to talent.
"The member universities in VAST have an opportunity to satisfy some of those needs in a big way and as such, represent a draw for companies to come to Virginia Tech," said Crofton, the namesake of Virginia Tech's Kevin T. Crofton Department of Aerospace and Ocean Engineering. "It's as simple as that."