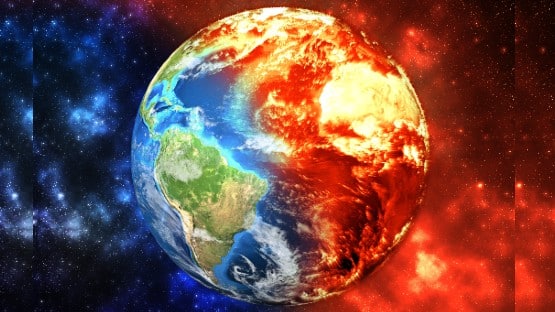 If we open our hearts, the seeds of transformative action will flourish. We can take a Giant Leap from the interconnected crisis we face now into a future with a stable climate, clean air, clean water, and food security for all. But to do so, we need to change our way of thinking, and we need to start telling new stories about what is important and what is possible.—Elizabeth Wathuti
Our Climate Crisis
Global warming likely contributed to the severity of the devastating wildfires in Maui in several ways but could not have driven the fires by itself. It was a compound disaster, where many different agents acted together to make the fires so horrific. Other forms of ecological degradation contributed to the conflagration. The landscape had been transformed by large plantations that were once regularly watered and maintained.  As agricultural activity declined, invasive grasses that are highly combustible spread across the abandoned fields.
The Gulf of Mexico, in the second week of August, was the hottest it has been at any point in any year on record by a wide margin. Water temperatures averaged over the entire Gulf of Mexico topped 88 degrees—that's 2.6 degrees above average and more than a degree above the previous record. Those extra-hot waters are of particular concern with the approach of the peak weeks of hurricane season.
Scientists have been mapping the spread of saltwater intrusion on farmland in Delaware, Maryland and Virginia on the Delmarva peninsula. They found that land area covered by visible salt patches almost doubled from 2011 to 2017, turning over 19,000 acres into marshland. Kate Tully, one of the scientists from the University of Maryland, explains, "Saltwater intrusion often happens in advance of sea level rise, which is why we call it the invisible flood."
The Indo-Gangetic Plain, stretching across northern India, is one of the most fertile agricultural regions in the world. It is home to 40% of India's 1.2 billion people. Now the toll of climate change and pollution is changing weather patterns and putting more than 800 million people at risk.
Politics and Policy
One year since it was passed by Congress, the Inflation Reduction Act has kicked off a stunning boom in clean energy. Since then, plans for more than 100 new clean energy manufacturing facilities have been announced in the U.S. Companies from around the world are investing billions of dollars into U.S.-based solar, wind, battery and electric vehicle ventures. Others are crafting plans to scale up early-stage technologies like green hydrogen.
The conservative Heritage Foundation think tank released a plan dubbed Project 2025 that is a "battle plan" for the first 180 days of a future Republican president. It calls for shredding regulations to curb greenhouse gas emissions, dismantling almost every clean energy program in the federal government and boosting the production of fossil fuels. Some Republican climate groups are pushing back, saying that Project 2025 is wrongheaded and not acceptable to the younger generation.
Rejection of climate science took center stage at the first Republican presidential debate. None seized on climate policy or support for renewable energy manufacturing and jobs as a way to stand out. Seeking to dominate the extreme Trumpian edge, technology entrepreneur Vivek Ramaswamy called climate change a hoax and said, "This isn't that complicated guys, unlock American energy, drill, frack, burn coal, embrace nuclear."
The Biden administration announced the first winners in a $3.5B carbon removal program—two direct air capture (DAC) facilities along the U.S. Gulf Coast. Each facility is expected to be capable of removing up to 1 million metric tons of CO2 per year, which is roughly equal to the annual emissions from 2.5 gas-fired power plants. DAC technology is still in its infancy and current systems are extremely energy-intensive and highly expensive to operate. Furthermore, it may be a fig leaf to big oil, allowing them to keep polluting under the guise of climate action.
Ignoring its climate commitments, Indonesia is building many new coal-fired electric power plants for industry. This will keep the country addicted to fossil fuels for the foreseeable future. Ironically, among the uses of this coal-fired power are aluminum smelters and nickel and cobalt processing facilities that the government is promoting to turn the country into a global hub for the electric vehicle and battery supply chains.
In rural Virginia, overzealous regulation of solar energy hinders progress according to Skyler Zunk, the cofounder of Energy Right, a conservative nonprofit that advocates for renewable energy in Virginia. Many counties are prohibitively restricting landowners and developers from proposing clean energy investments, largely rooted in fearmongering and disinformation. Done correctly, renewable energy investments are good for rural Virginia and move us closer to energy independence as a commonwealth.
A group of U.S. House members from Virginia and North Carolina wrote a letter to the Federal Energy Regulatory Commission urging it to deny Mountain Valley Pipeline's requested extension of the pipeline into North Carolina known as the Southgate project. The letter from Virginia Democrats Jennifer McClellan and Bobby Scott and North Carolina Democrats Valerie Foushee and Kathy Manning was signed onto by two dozen other House Democrats.
Energy
Dulles Airport in northern Virginia is going to host the US's largest clean energy project at an airport. The $200 million project includes a solar farm that will sit on 835 acres of the airport's grounds between runways. The power from the 100-megawatt solar farm will go to the grid and provide 37,500 households with power. The project also includes battery storage, EV buses, and EV charging stations at the airport.
The transition to electric vehicles promises to be two-fold, "a win-win" situation for the US, according to Elaine Buckberg, a Stanford University Fellow.  It will reduce our economy's vulnerability to oil-related geopolitical risk and oil price shocks. Historically, there has been a symbiotic relationship between soaring oil prices and economic recessions. Furthermore, EVs will be powered by increasingly clean and renewable energy sources over time as the grid becomes greener.
Office space in HQ2, Amazon's new 2.1 million square foot headquarters in Arlington, VA, is designed to operate with zero operational carbon emissions. Furthermore, it is keeping its embodied carbon (the carbon emissions used in construction) to 37% below the industry baseline by making efficient decisions and buying locally. Amazon is seeking the most stringent platinum Leadership in Energy and Environmental Design (LEED) certification for the  first phase of HG2 called Metropolitan Park.
General Motors announced that some of its electric vehicles will have bidirectional vehicle-to-home (V2H) charging capabilities by model year 2024 and all of them will have it by model year 2026. Bidirectional charging will enable using the EV battery as a backup electric source for your house or even the grid. PG&E, the largest electric utility in California, envisions a future where EVs feed excess power back into the grid during hours of peak demand.
First Solar, the largest solar energy manufacturer in the Western Hemisphere, announced plans to build a $1.1 billion facility to build solar panels in Louisiana. The facility will use 100% U.S.-made components and expects to create more than 700 new jobs with a total annual payroll of at least $40 million.
Climate Justice
A recent study has found those in the top 10% income bracket of American households are responsible for 40% of our nation's greenhouse gas emissions. The top 1% of households account for 15 to 17%, and "super-emitters" with extremely high overall greenhouse gas emissions, correspond to about the top 0.1% of households. About 15 days of emissions from a super-emitter is equal to a lifetime of emissions for someone in the poorest 10%. The highest emissions linked to income come from White, non-Hispanic homes, and the lowest come from Black households.
The United States has become the world's largest exporter of liquified natural gas (LNG) as Europe weans itself off gas imported from Russia following that country's invasion of Ukraine.  To capture this growing global market, companies like Venture Global LNG are building massive infrastructure along the Gulf Coast. What is a boon to gas companies has become an environmental and health nightmare for low-income communities in the area.
Young environmental activists who filed a lawsuit against the state of Montana scored a remarkable legal victory when the judge ruled in their favor. She ruled that state agencies were violating the youths' constitutional right to a clean and healthful environment by refusing to evaluate the effects of greenhouse gas emissions when granting fossil fuel permits. The case will serve as a guidepost for attorneys bringing similar suits in other states.
The 4th U.S. Circuit Court of Appeals unanimously dismissed environmental groups' legal challenges against the Mountain Valley Pipeline, saying Congress has eliminated its jurisdiction over the cases. Two of the judges, however, raised questions about the environmental and democratic precedent that has been set by congressional intervention in the cases.
The Southern Environmental Law Center filed a suit in Fairfax Circuit Court claiming that Virginia Gov. Youngkin and his administration does not have the legal authority to withdraw Virginia from the Regional Greenhouse Gas Initiative. The petition was filed on behalf of several different climate action groups including the Faith Alliance for Climate Solutions.
Climate Action
Talking about climate change causes greater acceptance of climate science, inspires action, and that, in turn, decreases climate anxiety. A growing movement of Americans are seeking out support and power in numbers in climate conversation groups. These groups include the All We Can Save Circles; the Good Grief Network, a peer support network modeled on 12-step addiction programs; and Climate Awakening, founded by climate psychologist Margaret Klein Salamon.
The Roanoke, VA, city council voted to fold their latest Climate Change Action Plan into the city's master plan. The climate plan calls on the community to slash greenhouse gas emissions by half over the next decade. It is, however, nearly four years behind schedule because of the pandemic and staff turnover.
In a national referendum, the people of Ecuador voted against drilling for oil in Yasuni National Park, a protected area of the Amazon. This vote will require the state oil company to end its operations in a region that's home to isolated tribes and is a hotspot of biodiversity. The government has however challenged the legitimacy of the referendum and said it would continue drilling.
Berlin could be a realistic role model for major American cities that seek to boost pedestrian and bicycle traffic while decreasing car traffic in a car-loving country. One recent initiative in Berlin was revamping a major street by putting in bicycle lanes, thereby decreasing automobile traffic by 11% and increasing bicycle traffic by 40%. The transition created a palpable sensory experience with less traffic noise and cleaner air.
Action Alert
Here is a great opportunity to contribute to a local project that will reduce energy costs and help drive down greenhouse gas emissions. Mercy House, in partnership with GiveSolar, have launched a crowdfunding campaign to install a 14.58 kilowatt solar system on Mercy House's family shelter, located on North High St. in Harrisonburg.  Please consider supporting this effort.  To learn more about this project and to donate, go to GiveSolar's crowdfunding webpage.
Compiled by Earl Zimmerman. Zimmerman is a member of the Climate Action Alliance of the Valley Steering Committee.