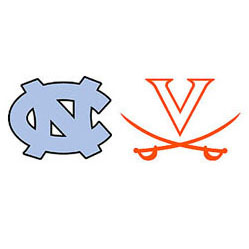 It followed a familiar script. Top-ranked UVa. was 4-2 coming into Friday night in games with a final score of 3-2 and 8-3 in one-run games.
The 'Hoos and their opponents this weekend, North Carolina, have a history of close games, at least of late. Fifteen of the last 20 between the two coming in were decided by three runs or less.
So are you surprised that the Friday night showdown between Nathan Kirby and Trent Thornton, both with 7-1 records and ERAs in the low- to mid-ones coming in, came down to a single run, and a 3-2 final?
Kirby struck out 12 in seven and two-thirds, and got a second-inning homer and three RBIs from Brandon Downes, to push the Cavs to a 3-2 win over Carolina on Friday night.
As tight as the game was, it felt like it was Virginia's game to win from the outset, as the 'Hoos (32-6, 15-4 ACC) got on the board first. Nick Howard singled to lead off the inning, and after a sacrifice bunt by John LaPrise, Downes homered to left to put the 'Hoos up 2-0.
It would remain there until the sixth, when Carolina (22-16. 9-10 ACC) played small ball to even things up, A one-out double by London Lassiter put runners on second and third. A Parks Jordan RBI groundout scored Skye Bolt to cut the lead to 2-1, and then Lassiter scored on a wild pitch by Kirby to Korey Dunbar to tie the score at 2.
The Cavs took the lead right back in the bottom of the sixth. Howard led off the inning with a single, and LaPrise singled through the hole between second and third on a hit-and-run to put runners on the corners with nobody out. Downes hit a fly ball to deep center to plate Howard and give Virginia the 3-2 lead.
Kirby (8-1) lasted into the eighth, giving up two runs on six hits, striking out 12 and walking two in 98 pitches. It was his efficiency with pitches even with the high strikeout total that was key to his longevity, and his longevity was key to the overall effort for the UVa. pitching staff, which needed only one out from setup man Whit Mayberry, a two-out, eighth inning strikeout to quell a Tar Heel threat, and a 1-2-3 ninth from Howard, who struck out the side to record his 12th save.
Thornton (7-2) also threw 98 pitches, but in six innings of work, in which he gave up three runs on seven hits, striking out three, walking one, hitting two batters and giving up the early longball to Downes.
Virginia got three hits from LaPrise and two hits each from Downes and Howard.
North Carolina leadoff man Michael Russell doubled off the left field wall in each of his first two trips, but was K'd by Kirby in each of his last two at-bats to finish the night 2-for-4. Lassiter also had two hits for UNC.