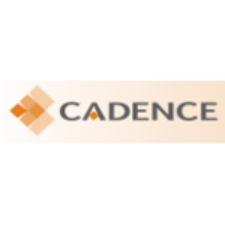 There is a long history between Cadence and Blue Ridge Community College located in Weyers Cave, Va.  This year marks the 20th anniversary that Cadence began its endowment with the school, helping to provide technologies for the Technical Studies/Manufacturing Engineering program that includes Mechatronics.
"It's important to have partners in the community like Cadence who recognize the value that we're providing," stated Amy Kiger, Executive Director of BRCC's Educational Foundation.
The relationship between Cadence and BRCC goes both ways and is much deeper than just the lifetime endowment.  Not only does Cadence provide funding to the school but also some of our best employees are graduates or current students of the Mechatronics program.  "I feel as though I've succeeded when students can draw back on the core building blocks learned here at Blue Ridge Community College and apply those skills to their careers," said Director of BRCC's Technology Intensive Manufacturing Service Center, Matt Goss.
"Since the company's inception, Cadence has carried a strong belief in investing in our local communities.  Blue Ridge Community College has been one of those investments that has repaid us many times over," stated Cadence's Chief Financial Officer, Ken Cleveland.  "Not only has Blue Ridge been a great source for new employees but as our company has grown, many of our current employees utilize Blue Ridge to continue their education and improve their skills in order to grow with the company."
The company also collaborates with the Community Foundation of the Central Blue Ridge (CFCBR) to support "Student Focus. Community Impact. The Campaign for Blue Ridge Community College."  This partnership focuses on helping fund various technologies and curriculum materials, BRCC's Career Coach program that places educational and career advisors into 12 local high schools, and the Workforce and Economic Development program that strives to educate the community and bring awareness to the school's various degrees and certification offerings.
For information on Cadence's community giving program, grant applications and partnership with CFCBR, please visitwww.cadenceinc.com/about-us/community.
To learn more about BRCC, visit their website at www.brcc.edu.
About Cadence Inc.
Cadence is a single source contract manufacturing partner.  Cadence develops new products that others cannot, builds processes that others will not, and delivers outcomes that simply make the world work better. Together with our customers, employees and shareholders, we provide advanced products using science and sound engineering to make an impact that matters. Cadence employs more than 500 people worldwide with locations including:
Advanced manufacturing in Massachusetts, Rhode Island, Virginia, and Wisconsin
Product Realization CenterTMin Pennsylvania
Nearshore operations in the Dominican Republic
For more information on Cadence, please visit our website at cadenceinc.com.