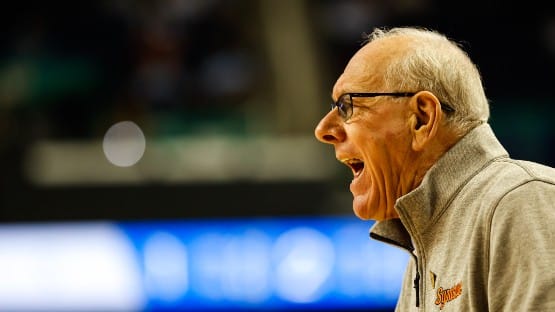 Syracuse is making the expected change at basketball coach, announcing after the program's loss to Wake Forest in the ACC Tournament on Wednesday that Adrian Autry will replace Jim Boeheim.
Boeheim had made clear in his postgame presser that this move was in the offing, telling reporters that he had given a "retirement speech" after Syracuse's regular-season home finale, a 72-63 win over Wake on Saturday.
"It's up to the university. They have to make their decision, and it's up to them. I hope we can come to a good agreement. I mean, that remains to be seen," Boeheim said after the ACC Tournament loss, which dropped Syracuse to 17-15 on the season.
Boeheim coached at his alma mater for 47 seasons, taking his team to 35 NCAA Tournaments and five Final Fours, and winning a national title in 2003.
The last two seasons, though, Syracuse has a cumulative record of 33-32, and the program has made just one NCAA Tournament appearance in the past four seasons, and Syracuse hasn't had a 20-win season since 2019, when the Orange finished a modest 20-14.
"There is no doubt in my mind that without Jim Boeheim, Syracuse Basketball would not be the powerhouse program it is today," Syracuse Chancellor Kent Syverud said in a statement. "Jim has invested and dedicated the majority of his life to building this program, cultivating generations of student-athletes and representing his alma mater with pride and distinction. I extend my deep appreciation and gratitude to an alumnus who epitomizes what it means to be 'Forever Orange.'"
Autry, the associate head coach under Boeheim, is a 1994 Syracuse grad and former Boeheim player, who has been an assistant at his alma mater since 2011.