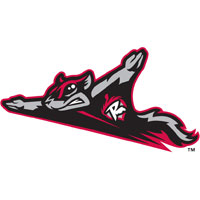 The Altoona Curve (5-8) turned the tables on the Richmond Flying Squirrels (9-6), claiming game two of a three-game series, 2-1, at Peoples Natural Gas Field on Friday night.  The Altoona victory ended a four-game win-streak for the Squirrels in the season series.
The Curve struck for the first run of the ballgame in the bottom of the second inning.  Richmond left-hander Adalberto Mejia surrendered a one-out double to Willy Garcia.  Elias Diaz followed and singled back through the middle.  Garcia scored for a 1-0 lead.  It marked the first time in nine road games that Richmond hadn't scored the game's first run.
Altoona right-hander Tyler Sample held the Squirrels at bay for five innings despite walking five batters.  He did so by allowing just two singles and striking out five.  He departed after five innings with a 1-0 lead.
The lead didn't last long following his departure as the Squirrels quickly tied the ballgame against right-hander Emmanuel de Leon.  Ryan Lollis sparked the offense with a one-out single punched to left field.  Eric Sim followed and sent a hard hit one-hopper at the second baseman Gift Ngoepe.  He couldn't handle it, and his error allowed Richmond to put runners on the corners with one out.  Kelby Tomlinson tied the game, 1-1, with a sacrifice-fly to right field.
Mejia steadied himself and lasted six innings in the ballgame.  He permitted only the lone run in the second inning, but did not factor in the decision.  He allowed just four hits, walked one and struck out six.  He also was credited with his lengthiest outing of the season and his first professional hit as a batter.
The ballgame remained tied into the eighth inning when the Curve plated the game-winning run off left-hander Phil McCormick (0-3).  Alen Hanson started trouble when he lined a one-out triple into the right-field corner.  Altoona then executed the suicide-squeeze with Ngoepe laying down a perfect bunt to bring in Hanson.
The Squirrels put two runners in scoring position with two outs in the top of the ninth inning, but right-hander Ryan Beckman closed the door by striking out Ricky Oropesa to end the ballgame.  Beckman earned the save.  Lefty Jhonathan Ramos (1-1) earned the win after tossing a scoreless eighth inning.
The finale of the three-game series is scheduled for Saturday afternoon at Peoples Natural Gas Field.  First pitch is scheduled for 1:00 p.m. as Richmond RHP Kyle Crick (1-0, 2.35) will make the start against Altoona LHP Joely Rodriguez (0-1, 7.00).  Pregame coverage will begin at 12:30 p.m. on SportsRadio910.com.