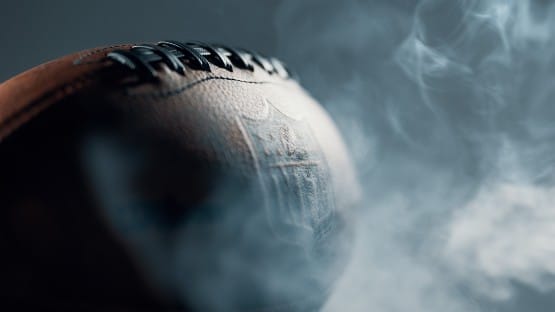 For the second year in a row, the AFC Championship will be settled at Arrowhead Stadium in Kansas City, as Patrick Mahomes and the top-seeded Chiefs take on Joe Burrow and the defending conference champion Bengals on Sunday (CBS) at 6:30 p.m.
Mahomes suffered a high-ankle sprain late in the opening half of KC's 27-20 Divisional Round win over Jacksonville last Saturday, and coach Andy Reid confirmed that his star quarterback has been getting treatment ever since in hopes to be as close to 100 percent as possible this weekend.
Mahomes returned to practice and was listed as a full participant on both Wednesday and Thursday, as he added that things went "overall probably better than I expected, being able to go out there and throw the football and get in the work I needed to get in."
As a result, the line in Vegas has fluctuated all week, with the "favorite" tag changing hands twice already. The Chiefs began the week as a slim favorite, then the Bengals were briefly projected to win, but as of Friday afternoon, Kansas City is listed as a 1-point favorite (over-under 47.5), according to Caesars Sportsbook.
The Chiefs (15-3) possess the league's best overall offense (413.6 yards per game), passing offense (297.8 passing yards per game) and scoring offense (29.2 points per game), but a lot of that success has been dependent on Mahomes' ability to scramble out of the pocket and extend plays. If he's not able to be as mobile as usual, it could easily disrupt the flow of the KC offense.
Cincinnati's defense ranked 23rd against the pass in the regular season, so even if Mahomes is able to get the ball out to his talented receivers quickly in space, things could still turn out well for the home crowd.
Last week, Mahomes was off getting X-rays while his backup Chad Henne engineered a 98-yard drive that resulted in a touchdown pass to Travis Kelce that gave the Chiefs a 17-7 advantage.
After results came back negative, Mahomes returned in the second half and didn't look 100 percent, but his TD toss to Marquez Valdes-Scantling with 7:08 remaining sealed the contest.
"I'm not coming out of a playoff game unless they take me out," he told reporters after the win.
Kelce registered a game-high 98 yards and a pair of scores on a career-best 14 receptions, while rookie running back Isiah Pacheco went for a game-high 95 yards — his second-highest total on the ground this season — on 12 carries.
Mahomes completed 22 of his 30 attempts for 195 yards and two touchdowns (no interceptions, no sacks), while rushing three times for eight yards. It was just the seventh time in his six-year career (and first time since Dec. 5, 2021) that he didn't throw for at least 200 yards.
The third-seeded Bengals (14-4), meanwhile, looked impressive on the road, knocking out the second-seeded Bills on their home turf in the snow on Sunday, 27-10. Burrow threw two touchdown passes in the first quarter to silence the rowdy Buffalo crowd early on, and the Bills could never get their high-powered offense going in the slippery conditions.
Joe Mixon didn't seem to have many issues, as he rushed for a game-high 105 yards and a touchdown on 20 carries, and also caught a couple of passes for 18 yards.
Cincinnati has now won 10 games in a row, including back-to-back wins over AFC North rival Baltimore in the regular-season finale and the Wildcard Round. The Bengals' last loss came in Cleveland on Halloween night.
Home-field advantage has been a storyline throughout the AFC playoffs, with the possibility of a neutral-site championship game played in Atlanta being squashed when Cinci eliminated the Bills. That scenario was in the cards, of course, as a result of the Bengals' regular-season matchup with Buffalo being canceled when Bills safety Damar Hamlin was injured on the field.
The scene now shifts back to "Burrowhead," as Cincinnati DB Mike Hilton referred to Kansas City's turf, where the Bengals defeated the Chiefs, 27-24, in overtime last January, nearly a year ago to the date (Jan. 30, 2022).
In last year's conference title game, Burrow rallied his team from a 21-3 deficit, throwing for 250 yards and a pair of touchdowns. He led the Bengals to a third-straight win over the Chiefs in 2022 last month on Dec. 4 (Cincinnati also won in Kansas City last Jan. 2 to secure the AFC North title, all by the same 27-24 margin).
Burrow has since set a franchise record for passing touchdowns for the second-straight year (35), and Hilton and the rest of his teammates have complete confidence that he can get them back to the Super Bowl, regardless of the venue or the opponent.
"I want our players to have that confidence that leads to that edge," said Bengals coach Zac Taylor. "They're not afraid of anybody. They know that they've put in the work. They know they belong on the field with everybody."
Will the Super Bowl favorite Chiefs be upended again in front of their home fans? Will Mahomes be able to play through the pain and do enough with his legs to send his team to State Farm Stadium in Glendale, Ariz., on Feb. 12? Or will it be Burrow puffing on another victory cigar in the postgame locker room? Get your popcorn ready, because it's about as intriguing as a conference championship game gets.