Duke redshirt junior Kelby Brown and sophomore Ross Martin have been recognized as Atlantic Coast Conference Football Players of the Week following the Blue Devils' 13-10 upset win at 14th-ranked Virginia Tech on Saturday. Duke and Clemson – which also had two players chosen – head up the list of nine honorees announced on Monday.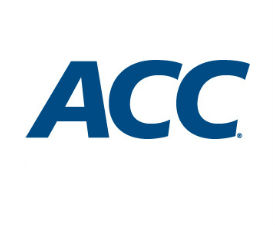 Brown, who was also named the National Defensive Player of the Week by the Walter Camp Foundation, is the ACC Linebacker of the Week after making 14 tackles and a key interception in the win over the Hokies. Martin was named the ACC Specialist of the Week after connecting on field goals of 51 and 53 yards in Saturday's win.
Clemson junior Sammy Watkins was named the ACC Receiver of the Week for the second time this season following a record-setting day in the Tigers' ACC road win at Maryland. Clemson's Brandon Thomas picked up ACC Offensive Lineman of the Week honors.
Miami's Duke Johnson was named the ACC Offensive Back of the Week, while North Carolina's Kareem Martin was recognized as ACC Defensive Lineman of the Week. Georgia Tech's Jemea Thomas and Virginia Tech's Kendall Fuller were cited as ACC Co-Defensive Backs of the Week. Florida State's Jameis Winston earned ACC Rookie of the Week honors for the fifth time this season.
OFFENSIVE BACK – Duke Johnson, Miami, So., RB, 5-9, 194, Miami, Fla.
Johnson rushed for 168 yards and two touchdowns on a career-high 30 carries in Miami's 24-21 come-from-behind victory over Wake Forest on Saturday. Both of Johnson's touchdowns came in the fourth quarter. Johnson's first score was a 4-yard run that gave Miami its first lead at 17-14 with 5:36 left in the fourth quarter. After Wake Forest retook the lead, Johnson found the end zone for a second time on a 1-yard score to put Miami up 24-21 with 53 seconds remaining. It marked Johnson's third 100-yard game of season and the seventh of his career. Johnson had 83 yards in the first three quarters on Saturday, before rushing for 85 yards in the fourth quarter alone. Johnson has 823 rushing yards and six touchdowns this season, averaging 117.6 rushing yards per game. He has amassed 1,280 all-purpose yards (182.9 ypg).
OFFENSIVE LINEMAN – Brandon Thomas, Clemson, Gr.-R, OT, 6-3, 305, Spartanburg, S.C.
Thomas played 93 of Clemson's 98 offensive snaps with a 90 percent grade and five knockdown block to lead the Tigers to a season high 236 yards rushing and 540 total yards in Saturday's 40-27 acc road win at Maryland. It was the third straight game that Thomas emerged as Clemson's top offensive lineman with a grade in the 90s.  The left tackle provided the key block on both of running back Rod McDowell's touchdown runs in the fourth quarter, when the Tigers scored 21 points to put the game away.
RECEIVER – Sammy Watkins, Clemson, Jr., WR, 6-1, 205, Fort Myers, Fla.
Watkins set a school record with 14 receptions for 163 yards in Clemson's victory over Maryland, breaking the previous record of 13 catches in a game set by DeAndre Hopkins against Auburn and LSU last year. It was Watkins' fifth game of at least 100 receiving yards this season and the 12th of his career to tie Hopkins' Clemson career record for 100-yard games. Watkins finished the game with a season-high 209 all-purpose running yards, helping the Tigers to 40 points and 540 total yards. Watkins had four catches of at least 20 yards in the game.
DEFENSIVE LINEMAN – Kareem Martin, North Carolina, Sr., DE, 6-6, 265, Roanoke Rapids, N.C.
Martin posted five tackles and had two sacks in North Carolina's 34-10 win over Boston College, including sacks on two consecutive third-down plays in back-to-back BC drives to force punts. Martin was part of a UNC defense that allowed a season-low 261 total yards, including just 59 passing yards. The 59 passing yards were the fewest allowed by a Tar Heel defense since 1997.
LINEBACKER – Kelby Brown, Duke, Jr.-R, LB, 6-2, 230, Matthews, N.C.
Brown led Duke to an upset road win over No. 14 Virginia Tech by totaling 14 tackles, including a tackle for loss, and one interception. With the Blue Devils nursing a 13-10 lead with 4:22 to play, Brown made the first interception of his career to help seal Duke's victory, as the Hokies did not regain possession of the football again. Brown spearheaded a Blue Devil defensive unit that held Virginia Tech to a season-low matching 10 points by forcing four turnovers, breaking up 10 passes and limiting the Hokies to just 4-of-18 (.222) on third-down conversions. Brown was also named the National Defensive Player of the Week by the Walter Camp Foundation.
CO-DEFENSIVE BACK –Jemea Thomas, Georgia Tech, Sr-R., S, 5-10, 195, Queensland, Ga.
Thomas recorded career highs with 15 tackles and 12 solo tackles, leading the Georgia Tech defense in Saturday's 35-25 acc win at Virginia. Thomas' 15 tackles were the most by a Yellow Jacket since 2009, and his 12 solo stops were the most by a Georgia Tech player since 2003. Thomas also matched a career high with two pass break-ups against the Cavaliers.
CO-DEFENSIVE BACK – Kendall Fuller, Virginia Tech, Fr., CB, 5-11, 180, Baltimore, Md.
A true freshman who moved from his natural field cornerback position to the boundary corner spot and learned the position in a week, Fuller was a standout for a staunch Hokies defense that allowed just 198 yards of total offense in Saturday's 13-10 acc loss to Duke. Virginia Tech recorded four interceptions on the day, three by Fuller, who set a Tech freshman-record with five for the season and moved into a tie for the national lead. Fuller is the first Virginia Tech player to record three interceptions in a game since Jayron Hosley did it against NC State in 2010.
SPECIALIST – Ross Martin, Duke, So., PK, 5-9, 185, Solon, Ohio
Martin kicked two field goals covering 51 and 53 yards to play a key role in Duke's 13-10 upset win at 14th-ranked Virginia Tech. Martin became the first player in the nation this season to have two field goals of 50 or more yards in a single game. The 53-yard effort – which came on the final snap of the second quarter and sent Duke into halftime with a 6-0 lead – marked his career-long and matched the seventh-longest field goal in school history. Martin added one extra point for a total of seven points on the day. Martin's 53-yarder tied Virginia's Ian Frye for the longest successful field goal by an ACC kicker this season.
ROOKIE – Jameis Winston, Florida State, Fr.-R, QB, 6-4, 225, Bessemer, Ala.
Winston threw for 229 yards and three touchdowns, completing 11-of-14 pass attempts in just the first quarter of FSU's 49-17 victory over NC State. Behind Winston's direction of the offense, the Seminoles led 35-0 at the end of the first period, tying the school record for most points in a quarter. Winston finished with 292 yards and three scores – marking his fourth consecutive game with at least three touchdown passes and his fifth outing overall with at least three touchdown throws (all five ACC games). Winston leads the ACC in pass efficiency, passing yards, total offense, passing touchdowns and completion percentage.