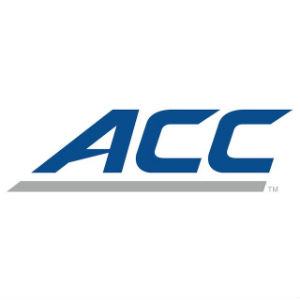 Miami paced this week's list of top performers with three student-athletes honored as Atlantic Coast Conference Football Players of the Week announced on Monday following Saturday's action, while two from Boston College were recognized.
Hurricanes senior Phillip Dorsett was selected as the ACC Receiver of the Week following Miami's 55-34 win over visiting Cincinnati, while junior Tyriq McCord earned ACC Co-Linebacker of the Week honors and quarterback Brad Kaaya was named the ACC Rookie of the Week.
Boston College senior defensive end Brian Mihalik was chosen as ACC Defensive Lineman of the Week for his play in the Eagles' 30-14 win at NC State, and classmate Josh Keyes picked up ACC Co-Linebacker of the Week honors.
North Carolina junior quarterback Marquise Williams received the nod as Offensive Back of the Week. Florida State senior Tre' Jackson earned ACC Offensive Lineman of the Week, while Duke junior safety Jeremy Cash was recognized as the ACC Defensive Back of the Week. Clemson punt returner Adam Humphries was tabbed as the ACC Specialist of the Week.
Miami's Dorsett, Boston College's Keyes, Florida State's Jackson and Duke's Cash were all honored for the second time this season.
OFFENSIVE BACK – Marquise Williams, North Carolina, Jr., QB, 6-2, 220, Charlotte, N.C.
Williams accounted for four touchdowns (two passing, one rushing, one receiving) in the Tar Heels' 50-43 loss at sixth-ranked Notre Dame. He became the first ACC player since 2000 to throw a TD pass and record TDs running and receiving in the same game twice in a career. Williams finished 24-of-41 passing for 303 yards and rushed for a career-high 132 yards on 18 carries to become the first player in school history to throw for 300 yards and rush for 100 yards in the same game. Williams played the entire game, leading the Tar Heels to 521 yards of total offense.  North Carolina's 43 points are the most Notre Dame has ever surrendered in a win and came against the nation's No. 3-ranked scoring defense.  The Tar Heels' 521 total yards are the most allowed by Notre Dame since Alabama had 529 in the 2012 BCS National Championship Game.
OFFENSIVE LINEMAN – Tre' Jackson, Florida State, Sr., RG, 6-4, 330, Jesup, Ga.
Jackson graded out at 94 percent – the highest grade of any Florida State offensive linemen this season – while leading the Seminole blockers in a 38-20 victory at Syracuse. Jackson paved the way for FSU to tally 482 yards of total offense, which included 317 yards passing and 165 yards on the ground.  Jackson opened holes for FSU's third-team running back, true freshman Dalvin Cook, to rush for 122 yards – the most by a Seminoles freshman since 2008. Jackson delivered three knockdown blocks in the win.
RECEIVER – Phillip Dorsett, Miami, Sr., WR, 5-10, 195, Ft. Lauderdale, Fla.
Dorsett surpassed 100 receiving yards for the second time this season as he hauled in three passes for 143 yards in Saturday's55-34 win over visiting Cincinnati. He also had a pair of receiving touchdowns for his third career multi-touchdown game. His 79-yard receiving touchdown in the third quarter was the longest of his career. He currently leads the Hurricanes with 550 receiving yards this season.
DEFENSIVE LINEMAN – Brian Mihalik, Boston College, Sr., DE, 6-9, 295, Avon Lake, Ohio
Mihalik recorded his first career interception at a critical time in Saturday's 30-14 road win at NC State. With the Eagles up by seven, he intercepted Wolfpack QB Jacoby Brissett's second-and-16 pass at the beginning of the second half and returned it 21 yards to give the Eagles first-and-10 at the Pack's 20-yard line. Mihalik's play ended Brissett's streak of 187 consecutive passes without an interception. Earlier in the game, Mihalik recorded a sack for a loss of eight yards, on third-and-7 to force NC State to punt. He now has 3.5 sacks on the year.
CO-LINEBACKER – Josh Keyes, Boston College, Sr., LB, 6-2, 223, Ghent, N.Y.
Keyes recorded a career-high 10 tackles to lead the BC defense against NC State on Saturday, not allowing the Wolfpack to score after the first quarter. He recorded two tackles for loss, including his team-high fourth sack of the season, forcing a fumble at the Wolfpack 46-yard line in the fourth quarter. The Eagle defense allowed the Wolfpack just 43 rushing yards and 217 total yards on the night. Keyes is second on the team with 32 tackles and leads BC with 9.5 tackles for a combined loss of 42 yards.
CO-LINEBACKER – Tyriq McCord, Miami, Jr., LB, 6-3, 248, Tampa, Fla.
McCord helped propel Miami to a 55-34 victory over Cincinnati on Saturday afternoon as he tallied two tackles, one sack, one tackle for loss, one pass breakup and recorded his first career interception return for a touchdown. McCord's 46-yard interception return in the third quarter gave the Hurricanes a commanding 31-10 lead.
DEFENSIVE BACK – Jeremy Cash, Duke, Jr.-r, S, 6-2, 205, Miami, Fla.
Cash came up with two second-half takeaways that led to 14 Duke points in the Blue Devils' 31-25 road win at previously unbeaten and 22nd-ranked Georgia Tech. His fumble recovery jump-started a nine-play, 46-yard touchdown drive that gave Duke a 21-12 lead. Cash then intercepted a pass and returned it 23 yards to set up a three-play, 23-yard march for another touchdown that put the Blue Devils in front 31-12. Cash also broke up a pass on a Georgia Tech two-point PAT attempt with 5:04remaining in the game, leaving Duke with a 31-18 lead.  He finished with seven tackles and broke up another pass in addition to the one on the PAT attempt. His effort led a Duke defense that held the Yellow Jackets to 9.6 points below their season average and forced three turnovers. Georgia Tech had committed a total of just four turnovers in its five previous games.
SPECIALIST – Adam Humphries, Clemson, Sr., PR, 5-11, 195, Spartanburg, S.C.
Humphries had eight punt returns for 107 yards, including a 72-yard return for a touchdown in the Tigers' 23-17 win over visiting Louisville.  Clemson had just 50 combined punt return yards in five previous games before Humphries more than doubled that total.  His 107 punt return yards were the most since C.J. Spiller had 119 in a win over Boston College in 2009. Humphries became the first Tiger to have a punt return for a touchdown since Spiller in the 2009 BC game.  Humphries' 107 punt return yards were the fifth most in school history and just the 10th 100-yard game ever for Clemson.
ROOKIE – Brad Kaaya, Miami, Fr., QB, 6-4, 209, West Hills, Calif.
Kaaya surpassed 200 passing  yards for the fifth consecutive game to lead the Hurricanes past Cincinnati by a 55-34 scoreSaturday afternoon at Sun Life Stadium. Kaaya finished the game with 286 yards passing, three touchdowns and no interceptions. His 79-yard touchdown pass to Phillip Dorsett in the third quarter was the longest pass of his career. With his three touchdown passes, Kaaya has now thrown multiple touchdowns in every game at home. Kaaya completed passes to seven different receivers in the win.