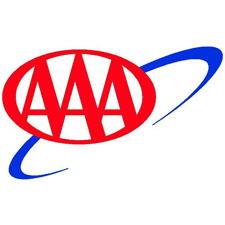 Nationwide, AAA Travel projects 46.3 million Americans will journey 50 miles or more from home during the Thanksgiving weekend, the highest volume for the holiday since 2007 and a 4.2 percent increase over 2013. Virginians will follow the national trend with over 1.3 million celebrating away from home in 2014, an increase of 3.4% from last year.
"Not since 2007 have this many Virginians traveled to share their thankfulness with family or friends away from home," said Martha Mitchell Meade, Manager Public and Government Affairs for AAA Mid-Atlantic.  "Increased consumer confidence is spurring the increase, according to AAA's pre-holiday survey, as Virginians are seeing the benefits of recent upticks in employment numbers, the GDP and disposable income and, of course, the lowest gas prices in four years certainly help."
Auto Travel / Gas Prices: Almost 90 percent of travelers (41.3 million national and 1.2 million in VA) will celebrate the holiday with a road trip and will enjoy the lowest gas prices in four years.
When comparing today's average price of $2.67 per gallon of gas in Virginia to last year's price of $3.24 on Thanksgiving Day, motorists in the commonwealth are saving about .57 cents per gallon. The difference in gas prices translates to about $12.00 means that for those traveling 200 miles in each direction to dine on turkey dinner. While the savings for a single trip is not likely to change the decision to travel, it is the cumulative effect of lower gas prices which is having an overall positive impact on family budgets and making motorists especially thankful.
In October of this year, Virginia gas prices fell below $3.00 for the first time since 2010, a welcome gift for travelers as they head into the busy holiday travel season. It is anticipated that gas prices will continue to drop through the end of 2014.  Therefore, AAA predicts most U.S. and Virginia travelers likely will pay the cheapest Thanksgiving gas prices in five years.
Air Travel:  The number of Virginia airline travelers is also expected to be at the highest level since 2007 at just over 94 thousand (94,073). That is almost three thousand more than last year (2013).
Pre-Holiday Survey of Travelers Frustrations/Opinions: AAA Travel surveyed more than 1,000 Americans to determine their biggest travel frustrations and opinions of current events related to the travel industry. The following results indicate a few key thoughts on the minds of travelers headed out over the holiday weekend.  "The infamous Knee Defender may not be on the holiday shopping list of as many frequent travelers as some may have imagined, as the vast majority of travelers seem to be willing to leave their seat back upright in consideration of those sharing their airplane flight," Meade added.
There has been a lot of discussion about whether travelers should be able to use their cell phones to make phone calls during flights, but Americans remain divided on the topic. Nearly half of U.S. adults (48 percent) believe air travelers should not be able to use their cell phones to make calls during flights, while 44 percent approve of the use of cell phones on planes.
There is certainly a lot to be thankful for this Thanksgiving, but Americans continue to report many common travel frustrations.  Air travelers reported lack of seat comfort or leg room (27 percent) and added fees for luggage or food costs (27 percent) as their biggest frustrations with air travel. Following these frustrations were flight delays or layovers (15 percent) and the airport security process (12 percent).
As Americans begin their holiday shopping, there's one item they can leave off their wish list – the infamous Knee Defender. Air travelers are more likely to leave the seat back up during most or all of their flight (52 percent) than to recline for most or all of their flight (29 percent).
Thanksgiving Travel Forecast Methodology: AAA's projections are based on economic forecasting and research by IHS Global Insight. The Colorado-based business information provider teamed with AAA in 2009 to jointly analyze travel trends during the major holidays. AAA has been reporting on holiday travel trends for more than two decades. The complete AAA/IHS Global Insight 2014 Thanksgiving Travel Forecast can be found here.
This report presents the findings of a telephone survey conducted among two national probability samples (landline only and cell phone), which, when combined, consists of 1,004 adults living in the continental United States. Interviewing for this CARAVAN® Survey was conducted on October 23-26, 2014.
This study has an average statistical error of ±3.8% US adults at the 95% confidence level for all US adults. That means there is a 95% chance that the results found in this study are within ±3.8% of the results that would be found if all US adults living in private households in the continental United States were interviewed using the research methodology and questionnaire used in this study. The actual statistical error depends on the number of respondents to each question and on the observed proportions.