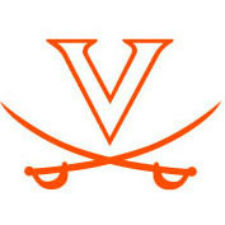 The most successful season in Virginia women's tennis history will continue after the third-seeded Cavaliers defeated 14th-seeded Baylor 4-1 in the round of 16 at the NCAA Tennis Championships Thursday (May 15) at Hopkins Indoor Courts at Dan Magill Tennis Complex.
The Cavaliers improve their school-best record to 24-5 and will face Stanford (19-2) in their first-ever NCAA quarterfinal appearance on Saturday (May 17). No. 13 Baylor finishes the season 26-7.
Virginia claimed the doubles point and received singles wins from Julia Elbaba (Oyster Bay, N.Y.), Stephanie Nauta (Galveston, Texas) and Danielle Collins (St. Petersburg, Fla.) in the victory. The match, which was originally scheduled outdoors at 12 p.m., was moved indoors due to rain and pushed back to a 2:30 p.m. start.
"The rewards are strong right now when you get into this situation," Virginia head coach Mark Guilbeau said. "The kids have really worked hard to get to this stage and you can see how happy they are and how hard they're playing. I could see across the board that our kids could win points with margins of about four, five or six feet from the lines. That adds an incredible amount of positivity to the match."
The Cavaliers captured the doubles point with wins at Nos. 3 and 1. Collins and Maci Epstein (Winter Park, Fla.) defeated No. 84 Blair Shankle and Alex Clay 8-4 on court three. Nauta and Li Xi (Kunming, China) clinched the point with an 8-5 win over Victoria Kisialeva and Jordann Sanford on court one. No. 7 Elbaba and Rachel Pierson (Princeton, N.J.) were deadlocked in a 6-6 tie with Ema Burgic and Kiah Generette on court two when the point was clinched.
No. 4 Elbaba gave Virginia a 2-0 lead with a 6-0, 6-1 win over No. 40 Generette on court one. Shankle put the Bears on the board with a 6-0, 7-6 (9-7) win over No. 76 Pierson on court four. No. 53 Nauta defeated No. 46 Sanford 6-4, 7-5 on court three to give the Cavaliers a 3-1 lead and No. 32 Collins clinched the Elite Eight berth with a 6-4, 6-3 win over No. 81 Burgic on court two.
"Everything we worked on this past week worked perfectly for us today" Collins said. "We're so excited and the whole year we've had a goal of being able to go all the way. We gained a lot of confidence after winning the ACC title and first few matches of the NCAA Tournament. We'll be ready for the challenge in the quarterfinals."
First serve for Virginia's quarterfinal match on Saturday against Stanford is set for 12 p.m.
Notes: Virginia improved to 15-14 all-time in the NCAA Championship. The Cavaliers improved to 2-3 all-time vs. Baylor. The Cavaliers had been eliminated in the NCAA round of 16 in each of the last three seasons.
#4 Virginia 4, #13 Baylor 1
Thursday, May 15, 2014
Hopkins Indoor Courts
Doubles
1. Nauta/Xi (UVa) def. Kisialeva/Sanford (BU) 8-5
2. #7 Elbaba/Pierson (UVa) vs. Burgic/Generette (BU) 6-6, DNF
3. Collins/Epstein (UVa) def. #84 Shankle/Clay (BU) 8-4
Order of Finish: 3,1*
Singles
1. #4 Julia Elbaba (UVa) def. #40 Kiah Generette (BU) 6-0, 6-1
2. #32 Danielle Collins (UVa) def. #81 Ema Burgic (BU) 6-4, 6-3
3. #53 Stephanie Nauta (UVa) def. #46 Jordann Sanford (BU) 6-4, 7-5
4. Blair Shankle (BU) def. #76 Rachel Pierson (UVa) 6-0, 7-6(9-7)
5. Maci Epstein (UVa) vs. Alex Leatu (BU) 6-1, DNF
6. Caryssa Peretz (UVa) vs. Alex Clay (BU) 3-0, DNF
Order of Finish: 1,4,3,2*