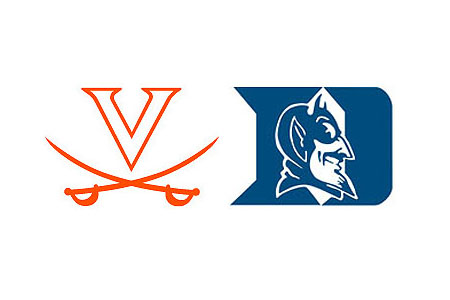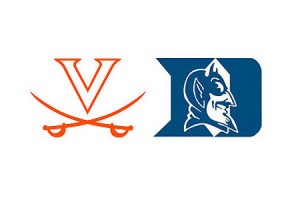 James Pannell scored three goals as 13 Cavaliers scored at least one point, but it wasn't enough as No. 8 UVa. (8-5, 1-4 ACC) fell in a shootout to the No. 2 Duke Blue Devils (10-2, 4-1 ACC) on Friday night, 17-15, inside Klöckner Stadium.
With the loss, UVa will secure either fifth or sixth place in the ACC and will play in the "Showcase Game" on April 26 at the ACC Championship in Chester, Pa. UVa's neutral site opponent at PPL Park will be determined after the remaining conference members conclude league play.
"That's a team that shoots the ball very, very well," said Virginia men's lacrosse head coach dom starsia. "That's the first piece of the puzzle. A couple more saves for us and couple more shots going in for us from guys that I would expect to get them, and the game swings the other way. We're close. We're right there. We're getting better. These last two weeks we've played the two best teams we've seen all year and battled them down to the wire. We just have to keep playing and getting better."
Virginia took an early 3-2 lead with goals from Rob Emery, Pannell and Scott McWilliams in transition. After a Deemer Class score at 2:48 to tie the game for Duke, 3-3, Zed Williams scored the first of his two goals at 1:51 to give UVa a 4-3 lead and cap the first quarter scoring.
UVa jumped out to a 6-4 advantage with 11:28 left in the first half on goals by Zach Wood and Williams. Wood assisted the Williams goal to give UVa's its largest lead of the night. The tide turned for Duke when Jordan Wolf kick-started a 6-0 Duke run that spelled the difference in the game. Wolf bookended the spurt he started with 18 seconds left in the second quarter and just like that the Blue Devils led 10-6. Ryan Tucker gave UVa a jolt going into the intermission when he scored on an Owen Van Arsdale helper with 2.1 seconds left, cutting the Cavalier deficit to 10-7 heading into the break.
Duke opened the second half on a 3-1 run to extend its lead to five goals, 13-8. Myles Jones scored a man-up goal at 5:10 to cap the run. UVa quickly went on a 3-0 run to get within two goals, 13-11. Mark Cockerton, Tyler German and Greg Coholan all scored goals during the streak. Coholan's unassisted score capped the run with 14:07 left in the game.
On the ensuing faceoff, Duke's Brendan Fowler turned over the ball after winning the draw. Pannell picked up the ground ball and hit a streaking Coholan, whose shot was blocked from behind. Duke retained possession and quickly went streaking down the field as Josh Dionne scored the first of his back-to-back goals with 12:08 remaining. Dionne's second straight goal at 11:32 increased the Duke advantage to four goals, 15-11. Dionne's two goals were part of a 4-1 Duke run that gave the Blue Devils a five goal lead, 17-12.
UVa strived valiantly till end, scoring the last three goals of the game, two by Pannell that were both extra-man scores after Charlie Payton was charged with a full-time served illegal body check penalty at 4:14 for Duke. Coholan assisted both of Pannell's EMO goals. Coholan scored unassisted at 2:29 to cap the game's scoring. UVa was unable to generate any more offense as Duke held on.
"I didn't feel like the possession battle was completely out of whack," said Starsia. "The kid facing off for them is very good, so we had to battle that all night long. But, this was a game, and a team, where the ball was going to be loose. They weren't going to play a very deliberate pace like some teams we've faced. We defended in the second half and were able to get the ball back and did well clearing it all game. I think we might have gotten the better of Duke in the middle of the field and created some opportunities for ourselves. When you're not winning face-offs, you have to be very good clearing the ball and picking the ball up off the ground, and I thought we were in both those aspects."
UVa won the battle of shots (53-34) and had fewer turnovers (16-2). Duke won the battle of the ground balls (37-34), mostly on the heels of being efficient on faceoffs (22-13), while winning the last nine draws of the game. Pannell led UVa with four points on three goals and one assist. Williams had two scores and two assists for a career-high four points. Coholan also had four points with two goals and two assists.
Jones led Duke with four goals and two assists, while Walsh had three goals and three assists to pace the Blue Devil offense.
UVa returns to action on Saturday, April 19 when Bellermine comes to Klöckner Stadium to conclude the regular season. Faceoff is set for 1 p.m.