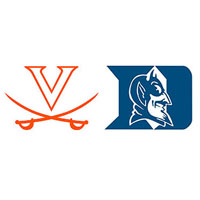 The No. 10 Virginia field hockey team (6-2, 2-0 ACC) won its fifth-straight game, earning a 2-1 victory at No. 3 Duke (6-1, 1-1 ACC) on Friday (Sept. 19) Durham, N.C.
"This is a great win to put in our back pocket," said Virginia head coach Michele Madison. "I am really proud of the effort by everyone on this team in the game as well as the preparation leading up to it. It was a really even game; the stats showed it. You could also see it on the field that both teams worked so hard, which made it a great game to watch and coach. The midfielders really covered the passes well. They needed to have good vision and attack spaces to get Duke on the run."
Freshman midfielder Tara Vittese (Cherry Hill, N.J.) broke up the scoreless tie 13 minutes into the second half, dribbling into the circle past a pair of defenders and taking a shot from the left corner of the net to give the Cavaliers a 1-0 lead. With 15 minutes left in the game, Vittese helped give UVa a two-goal advantage, finding sophomore midfielder Lucy Hyams (Whitstable, England) on the left post.
Duke cut Virginia's lead in half with 10 minutes left to play. After the Cavaliers blocked an initial shot off a short corner, Duke's Amanda Kim picked up the deflected ball and tapped it into the goal.
Duke had several scoring chances in the final minutes of the game, but Virginia senior goalkeeper Jenny Johnstone (Paisley, Scotland) made three saves. Freshman back Becca Zamojcin (Phoenixville, Pa.) also made a defensive save on a Duke second-chance shot after an initial Johnstone save.
Duke's Jessica Buttinger smoked a shot at the goal with 30 seconds left in the game, but Johnstone blocked the shot with her arm, helping to preserve the victory for the Cavaliers.
Virginia took seven shots in the game with Duke taking eight. Both teams tallied four saves.
The loss snapped a six-game win streak for the Blue Devils, whose 6-0 start to the season was its best since 1978.
The Cavaliers will host No. 7 Albany in a non-conference tilt on Sunday (Sept. 21) at 1 p.m., before facing No. 4 Syracuse next Friday (Sept. 26) at Turf Field, a stretch of three-straight games against top-10-ranked opponents.