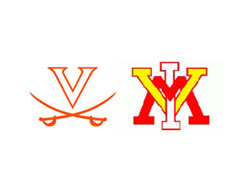 The top-ranked UVa.
baseball
team managed just six hits in a 3-2 loss to VMI Tuesday afternoon at
Davenport Field
.
Virginia
(6-2) had its six-game win streak halted, while
VMI
(5-2) won its fifth-consecutive
contest
and snapped a 14-game losing streak in Charlottesville, dating back to March 7, 1991.
Mike Papi (Jr., Tunkhannock, Pa.) and Derek Fisher (Jr., Rexmont, Pa.) each had a pair of hits for the Cavaliers. Papi hit a solo home run in the third inning and scored both UVa runs. Brandon Angus went 3-for-4 for the Keydets.
Making a last-minute start after scheduled starting pitcher Artie Lewicki was scratched, Whit Mayberry (R-Sr., Alexandria, Va.) worked 3 2/3 innings, allowing two runs (one earned) and three hits with one strikeout. He was credited with the loss and fell to 0-1 on the season. David Rosenberger (So., Bethlehem, Pa.) tossed two scoreless innings before Connor Jones (Fr., Chesapeake, Va.) came on to work the final 3 1/3 innings.
VMI
pitchers Cameron Henkel and
Taylor Edens
kept the Cavaliers off balance all day. Henkel (1-0) started and pitched four innings, giving up a run, four hits and a walk while striking out one in earning the win in the designated staff day. Edens worked the final five innings, facing just two over the minimum as he earned his first save. He allowed an unearned run and a pair of hits while striking out one. The two combined to retire 11 straight batters from the third inning into the seventh and set down 18 of the final 21 hitters in the game.
Virginia
got on the board in the third inning on a one-out solo home run into the right-field bleachers by Papi. It was his second homer of the year.
VMI
responded with a pair of runs in the fourth inning. With one out Red Dowdell singled and Angus doubled to put runners on second and third.
Matt Winn
hit a safety squeeze to bring in Dowdell and tie the game. Will Connerley then hit a grounder to Kenny Towns (Jr., Burke, Va.) at third, but Papi failed to make the catch on the throw to first, allowing Angus to cross the plate and give
VMI
a 2-1 lead.
The Keydets added a big insurance run in the eighth inning on a two-out Angus single to score
Jordan Tarsovich
.
That run proved key in the ninth inning when UVa scratched across a run. Papi led off with a single, moved up on a groundout and then went to third on an error by second baseman
Jordan Tarsovich
on a Joe McCarthy (So., Scranton, Pa.) grounder. Papi scored on a Brandon Downes (Jr., South Plainfield, N.J.) groundout, but McCarthy was left stranded at second when Fisher flied out to left field to end the game.
Virginia
remains home this weekend as it plays Monmouth in a three-game series. The Cavaliers and Hawks play at 3 p.m. Fridayand 1 p.m. Saturday and Sunday. Because of the men's basketball game against Syracuse,
baseball
parking Saturday will be limited to the Emmet-
Ivy Garage
.