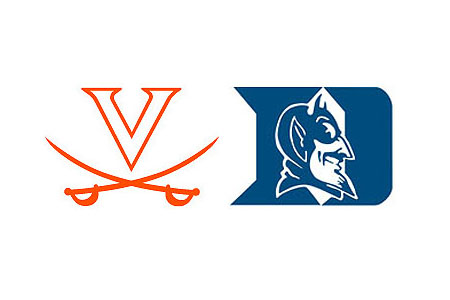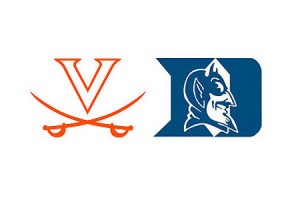 The No. 1-ranked UVa. baseball team begins ACC play Friday with a three-game series at Duke. The weekend set begins with a 6 p.m. Friday game at Jack Coombs Field and will be followed by 1 p.m. matchups on Saturday and Sunday.
Broadcast Information
ESPN3 will have live video broadcasts of all three games. wina 1070-AM and WINA.com will carry the radio broadcast of the Friday and Saturday games. The audio broadcast of all three games will be available through a Cavaliers Live subscription on VirginiaSports.com.
Live statistics (GameTracker) for all three games will be located on VirginiaSports.com. The audio and live stats also can be accessed through the Virginia Sports app, which is available through iTunes.
Virginia in the Latest National Rankings
Baseball America, NCBWA, Perfect Game – 1
USA Today Coaches – 3
Collegiate Baseball – 5
Virginia Cavaliers (9-2)
Probable Starting Rotation
Fri. – So. LHP Nathan Kirby (3-0, 0.98 ERA)
Sat. – So. RHP Josh Sborz (3-0, 1.12 ERA)
Sun. – So. LHP Brandon Waddell (2-1, 5.06 ERA)
Duke Blue Devils (7-5)
Probable Starting Rotation
Fri. – Sr. RHP Drew Van Orden (1-0, 5.23 ERA)
Sat. – Jr. RHP Andrew Istler (1-2, 0.63 ERA)
Sun. – So. RHP James Marvel (2-1, 1.96 ERA)
Virginia-Duke Series
Virginia holds a 92-53-1 edge in its all-time series with Duke. UVa is 25-7 against Duke under the current coaching staff (since 2004) and has won 14 of the last 15 contests against the Blue Devils dating to 2009.
The Cavaliers are playing at Jack Coombs Field for the first time since March 14-16, 2008, when the Blue Devils took two of three games. UVa has won its last five series against Duke dating to 2008.
The Cavaliers also have captured their last five ACC-opening series since the series loss to Duke in 2008.
Comparing the Teams
Statistically, both teams are pretty similar heading into the weekend. UVa ranks third in the ACC with a 2.27 team ERA; Duke is sixth at 2.56. The Cavaliers lead the ACC with a .986 fielding percentage; Duke stands fourth at .972. UVa is third in the ACC in batting (.288), while Duke is sixth (.268).
Scouting Duke
Duke is 7-5 on the year following a 6-2 11-inning loss at home to Liberty on Wednesday. Chris Marconcini leads the team with a .367 batting average and is tied with UVa's Brandon Downes for the ACC's home run lead with three. He also has knocked in 13 runs, second in the league to Downes' 15.
Ryan Dietrich is batting .345, while Jordan Betts and Mike Rosenfeld each sit at .333.
Young Rotation Moves into ACC Play
Virginia has the youngest weekend pitching rotation in the ACC this year, with a trio of sophomores manning the starting staff. UVa is the only ACC team to start all underclassmen on the weekend this year.
Brandon Waddell has made 19 career weekend starts, while Nathan Kirby has recorded four and Josh Sborz three. The three have combined to go 8-1 with a 2.32 ERA this year.
Cavaliers Patient, Put Ball in Play
Through 11 games, Virginia batters own more walks (46) than strikeouts (40). The Cavaliers are one of three ACC schools (FSU, UNC) to have fewer strikeouts than walks this year. UVa has struck out the fewest times of any ACC school.
Up Next
Virginia returns home Tuesday for a 4 p.m. game with James Madison. The Cavaliers play host to Boston College next weekend (March 14-16) in a three-game ACC series.