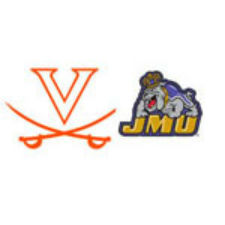 A capacity crowd of 1,632 fans filled Eagle Park at James Madison University in Harrisonburg hoping to see the Dukes upset top-ranked UVa. What they got instead was a dominating performance by the Cavs. A two-run first inning homer by Joe McCarthy, who had four hits and four RBI on the night, set the tone for what turned into an 9-3 Virginia win Tuesday.
Mike Papi also homered for the 'Hoos (28-5, 12-3 ACC), who had come in having struggled offensively of late, scoring just six runs while taking two of three at Pitt over the weekend. There were no such troubles Tuesday against JMU (11-18, 3-2 CAA), which was pushed into an unplanned early staff day when starter Ben Garner was knocked out on a sharp liner up the middle off the bat of Nick Howard. Garner took the liner off his hip, and though he left the field under his own power, Dukes coach Spanky McFarland opted to go to his bullpen rather than risk anything with Garner.
The pen kept it close. It was still 2-0 in the fourth when Howard extended the lead with a sacrifice fly to right that made it 3-0 UVa. The game broke open in the middle innings with Virginia getting two in the fifth on the Papi homer and adding three in the sixth on a Papi fielder's choice RBI and a two-run double off the bat of McCarthy.
Another Papi RBI groundout in the seventh pushed the margin to 9-0 UVa.
Papi also had four RBI for the 'Hoos, who got a strong start from Alec Bettinger, who gave up two hits in four scoreless innings. Artie Lewicki put up three scoreless innings in relief in another nice midweek outing for the righty, still coming back slowly from Tommy John surgery in 2012.
Whit Mayberry pitched a scoreless eighth, and then JMU finally got on the board in the ninth, getting a two-out, two-run double from Kyle Weston off reliever Kevin Doherty, who twice was one strike away from finishing out what would have been Virginia's fourth shutout in five games, and an RBI triple from Josh Wyatt off reliever Austin Young.