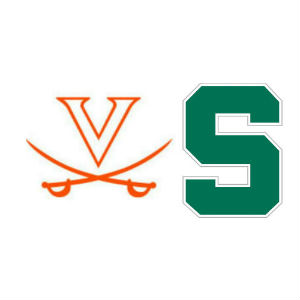 A late 7-0 UVa. run tied the game with 1:53 left, but Michigan State made the big plays down the stretch, and got the benefit of a controversial no-call, and the fourth-seeded Spartans advanced to the elite eight with a 61-59 win over the top-seeded Cavaliers Friday night in Madison Square Garden in New York.
Virginia (30-7) trailed by as many as 10 in the first half, but a 12-0 Cavs run got them back into the game late in the opening 20 minutes, and after going into the halftime break down four at 31-27, the 'Hoos opened the second half on a 13-5 run to lead by four at 40-36 on a London Perrantes layup with 11:44 to go.
UVa. had a chance to extend the lead from there, but a missed Joe Harris three turned into a transition bucket for Michigan State (29-8), who got a dunk from Adreian Payne that ignited a 15-4 spurt over the next six-plus minutes that pushed the Spartans to a 51-44 lead on two free throws by Branden Dawson with 5:25 to go.
A Harris driving layup and two free throws by Malcolm Brogdon cut the margin to three just as Michigan State went cold from the field, and a Justin Anderson three with 1:53 to go tied the game at 51.
Payne hit a three on MSU's next possession with 1:31 to go to put Sparty back on top, 54-51. Brogdon drove the lane for an attempted layup, and despite what looked like obvious contact on a block attempt by State's Gary Harris, there was no foul called, and Payne cleaned up the rebound. A Dawson dunk with 51 seconds left pushed the lead to five, and forced Virginia into scramble mode.
Harris rattled home a three with 40 seconds left to cut the lead back to two. At this point, UVa. had only three team fouls, and needing to foul quickly to get Michigan State on the line started a series of touch fouls aimed at getting State into the bonus.
On the fourth of the ensuing four fouls, it appeared that Michigan State's Keith Appling got away with a push-off as he tried to get away from UVa. backup point guard Teven Jones on an inbounds play. No foul was called, and Appling eventually got the ball to Payne, who made two free throws with 33 seconds left to extend the lead back to four.
A pair of London Perrantes free throws with 10 seconds left got it back to two, but Travis Trice made two free throws a second later to make it 60-56.
Brogdon hit a three with 1.4 seconds left to bring Virginia to within one, but the Cavs had no timeouts left. Harris, after being fouled before Michigan State could get the ball inbounds, made the first free throw and then intentionally missed the second. Anderson pulled down the rebound, and his 60-foot heave was on line, but fell about three feet short.