VMI football announces five assistants added to staff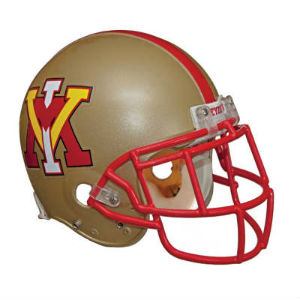 VMI head football coach Scott Wachenheim announced the addition of five new assistant coaches to the 2018 staff. Joining the Keydets on the offensive side of the ball are Brian Sheppard (Offensive Coordinator/Quarterbacks) and Albert Reid (Running Backs). Seth Payne (Defensive Line), Jeff Sejour (Outside Linebackers) and Tarron Williams (Cornerbacks) will coach on the defensive side.
" I am excited to welcome our five new coaches to the VMI Football family," said Wachenheim. "All are men of character who bring a high level of football expertise to their area of coaching responsibility, and are committed to the mission of Virginia Military Institute."
Sheppard begins offensive coordinator duties after serving in the same capacity at Northern Arizona University in 2017. He helped lead the Lumberjack offense to a 2017 FCS playoff berth and mentored NAU quarterback Case Cookus who threw for 3,413 yards and 22 touchdowns while the offense averaged 30.2 points per game. Sheppard also served as offensive coordinator/quarterbacks coach at Indiana State from 2013 through 2016 and was also named assistant head coach for the 2015 and 2016 seasons. He helped turn around a team that went 1-11 in 2013 to an 8-6 mark in 2014 and aided the Sycamores program in attaining its first playoff appearance and win in over 30 years. Sheppard's coaching resume also includes stops at Willamette University, Alderson-Broaddus, West Virginia Wesleyan, UCLA, New Mexico State, and Tulsa. Sheppard played quarterback at Saddleback Junior College (Calif.), Southeastern Louisiana University, and Baker University (Kansas) where he graduated in 2006.
Reid will coach Keydet running backs after serving as a graduate assistant coach at Virginia on Coach Bronco Mendenhall's staff working with the defense. Reid played at both Maryland and Virginia and finished his college career with 1,287 combined rushing yards logged between Maryland (2012-14) and Virginia (2015-16). In 2016, he led the UVA with six rushing touchdowns. A native of Washington, D.C, Reid is a 2015 graduate of Maryland with a degree in criminology and criminal justice and earned his master's degree in educational psychology at UVA.
Payne will mentor the VMI defensive line after serving as assistant defensive line coach at Wake Forest for three seasons (2015-17). At Wake Forest, Payne's duties focused on Drop lineman and he was also responsible for the organization and execution of the offensive scout team. Payne spent the 2014 season at Villanova as a defensive assistant and also served three seasons as an assistant coach at his alma mater, Moravian, working with the defensive line and linebackers. Payne was a four-year member of the Moravian football team from 2008-11 and was a two-time All-Centennial Conference team selection and served as team captain in 2011.
Sejour takes over outside linebackers responsibilities after working with linebackers at Howard University in 2017 and was part of a staff that turned a 2-9 record the previous year into a 7-4 mark and second place finish in the MEAC in 2017. Sejour previously coached at Bridgewater (Va.) College handling the secondary in 2016 while also serving as head coach of the junior varsity team that season. Sejour also has a wealth of high school coaching experience in Northern Virginia coaching football, track, and basketball in tenures at Fairfax, T.C. Williams, and James Madison High schools. Sejour was a two-sport star in football and track at Lafayette College where played on two Patriot League championship football teams as a defensive back and was a team captain and triple jump conference champion for the Leopard track program. He also competed professionally in track for three years. Sejour earned a B.S. in Neuroscience at Lafayette in 2006 and was a member of the Patriot League Academic Honor Roll.
Williams moves to coaching a position group he played in college – cornerbacks. A four-year starter at Gardner-Webb who competed against the Keydets when VMI was a member of the Big South Conference, Williams comes to the Institute after serving the past two seasons at James Madison University working with defensive quality control. Williams assisted with the development of the Dukes safeties as JMU captured the FCS championship in 2016 and reached the FCS championship game in 2017. Williams also coached two years (2011-12) at Lenoir-Rhyne as a graduate assistant coach where he was assistant secondary coach for two SAC Championship teams under coach Mike Houston. After earning an M.A. in Community Counseling with School Licensure at Lenior Rhyne in 2012, Williams moved to private business where he was a district manager for Pepsico (Frito-Lay Division) for three years in the North Carolina Triad area.
In other coaching staff assignments, Wachenheim has announced that Mike Saint-Germain will move from outside linebackers to inside linebackers. It will be the third position group assignment for Saint-Germain who originally began as defensive line coach in 2015. Saint-Germain will also serve as special teams co-coodinator. Ross Metheny, who joined the VMI staff in 2017 as safeties coach, will handle wide receivers and serve as recruiting coordinator.
VMI begins spring drills on Wednesday, April 4 and will conclude practices on Friday, May 4.