Sports
Virginia Tech runs up 475 yards of offense, keeps Wofford in check in 27-7 win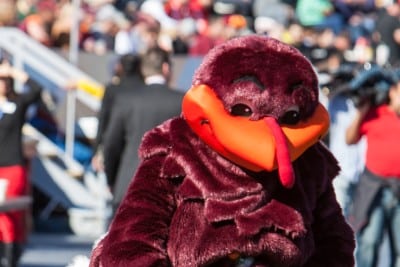 The Virginia Tech football team (2-1, 1-0 ACC) cruised to a 27-7 win over Wofford on Saturday in non-conference play. It was an 11 a.m. kickoff at Lane Stadium as the Hokies led 27-0 before the Terriers scored their first points of the season on a late touchdown run.
The game was uncomfortably close for Tech in the first half, leading just 3-0 after the first quarter. But two touchdowns late in the half – a one-yard run by Jalen Holston and an 11-yard pass from Grant Wells to Jadan Blue – blew the game open as Tech cruised the rest of the way.
The Hokies finished with 475 yards of total offense, holding Wofford to just 191 and one red zone visit.
Tech recorded three sacks in a game where neither team turned the ball over.
Tech got a 46-yard field goal from Will Ross in the first quarter and a 41-yarder just second into the second quarter before they scored three straight touchdowns.
Bruce Duke caught a 27-yard pass from Wells early in the fourth quarter to make it 27-0.
Wells finished 26-for-35 for 214 yards with two touchdowns. Holston had 66 yards on 16 carries, while Chance Black recorded 45 yards on 15 carries.
Blue led receivers with four catches for 61 yards and a score, with four pass catchers catching at least three balls.
Next up for Tech is the big battle at home on Thursday night against West Virginia.