Top News
Sen. Warner showcases Virginia artists in Capitol office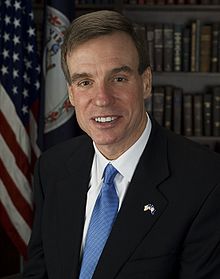 U.S. Sen. Mark R. Warner is showcasing five Virginia local artists in his Washington, D.C. office as part of his State of the Arts in Virginia program. Each year, Senator Warner works with curators and talented Virginia artists to select artwork that is seen by a wide variety of visitors to Capitol Hill.
This year, Senator Warner selected fifteen pieces of artwork from five Virginia artists that are displayed in his office in the Russell Senate Office Building, including the reception area, the conference rooms, and Senator Warner's personal office.
"As a longtime supporter of Virginia arts and culture, I'm very honored to have this opportunity to showcase the arts and artists of Virginia," Senator Warner said.
2015 Artists
Chief Kevin Brown: Chief Brown works in a wide variety of mediums ranging from traditional earthenware pottery to stoneware sculpture and bronze casting. Like his mother, he is also a classically-trained portrait painter.
Chief Brown's artwork has been featured at many prestigious galleries and museums.His works can also be found in the permanent collections at the Museum of the American Indian, the Virginia Museum, the Sioux Indian Museum, and the Hampton University Museum. Chief Brown currently lives on the Pamunkey Indian Reservation with his wife.
Piece in the Collection: The Patriot
Jeanne Goodman: Jeanne Goodman's color pencil drawings can also be found in the collections at Capital One headquarters, The Four Seasons Hotel in Georgetown and the Jane Voorhees Zimmerli Art Museum at Rutgers University. She resides in Norfolk, Virginia. To see more of Goodman's artwork please visit her website www.jeannegoodman.com.
Pieces in the Collection: Looking Out, Running Horses
Frederick Nichols: Graduate of the University of Virginia. Frederick Nichols maintains a printmaking workshop and painting studio in Barboursville, Virginia. His silkscreen prints and paintings have been featured throughout the world from the International Biennale of Contemporary Art in Florence, Italy to the Hygo Prefectural Museum of Art in Kobe, Japan. To see more of his work please visit www.frednichols.com.
Pieces in the Collection: Bacon Hollow, Autumn Over Warm Springs, Sunset, Massanutten, Upper Rapidan Pool
Todd Tagnesi: Tagnesi is fusion abstract artist from Richmond, Virginia. Tagnesi says that fluid abstract painting gives him the flexibility to change the landscape of the painting on the fly instead of being forced to stick to a certain method. His artwork is showcased at Crossroads Art Center and Art Works Studio and Galleries in Richmond. Please visit his website www.fusion-artwork.com/ and Instagram account @Fusion_Artwork to see more of his work.
Pieces in the Collection: Out of the Blue, Islands of Warmth, Berry Blast
Benjamin Walls: Benjamin Walls is a fine art photographer from Bristol, Virginia. His pieces are the only fine art photography featured in the collection. Walls' artistically diverse work has been recognized in all four major genres of his field: abstract, black and white, landscape and wildlife. In 2014, he received a commendation from the Virginia House of Delegates for his photography, environmental advocacy and his contributions to the revitalization of his hometown.
Pieces in the Collection: Appalachian Mosaic, Appalachian Light, Beyond the Branches, Grace