Pride Fund endorses Tim Kaine for Senate re-election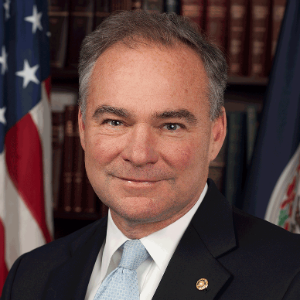 Pride Fund to End Gun Violence PAC announced today its endorsement of U.S. Sen. Tim Kaine for re-election to the U.S. Senate, citing the Democrat's longstanding commitment to fighting for LGBTQ equality and his backing of commonsense gun safety measures.
"Having served as the governor of Virginia when the Virginia Tech shooting took place, Senator Kaine is uniquely familiar with the human cost of gun violence and the need for commonsense gun reform," said Jason Lindsay, executive director of Pride Fund. "In the years since that tragedy, Kaine has worked tirelessly to close the loopholes that allowed the Virginia Tech shooter to purchase his weapon, and has fought to strengthen background checks to keep guns out of the hands of convicted felons. Senator Kaine is a critical leader in the fight to pass gun safety measures, and we're proud to endorse him for re-election to ensure that his voice and votes are heard in the Capitol."
"To finally force action in Congress to reduce gun violence, it will take intense pressure from all of us who support gun safety measures, and I am so proud to have the Pride Fund's support in my campaign," said Sen. Kaine. "Our country is finally being shaken from its complacency in the face of gun violence thanks to the advocacy of young people and groups like the Pride Fund, who are stepping up to say 'never again.' In my campaign, I will continue calling for making background checks universal, banning assault weapons and high-capacity magazines, and improving our mental health systems."
Exit polls in Virginia showed that gun safety reform was the second most important issue for Democrats in the Commonwealth's 2017 elections, coming in just behind healthcare. This is the continuation of a shift in recent election cycles where gun reform has increasingly ranked as a higher election priority for Democrats and independents.
"Both leading Republican candidates, Corey Stewart and Nick Freitas, cannot be counted on to keep Virginians safe. They both have 'A' ratings from NRA, and both champion the Virginia Citizens Defense League, a group too radical even for the NRA. It's clear that they are unfit to serve the people of Virginia and would fail to adequately represent the many diverse people and communities that call the Commonwealth of Virginia home," said Lindsay, who is an Iraq combat veteran.
About the Pride Fund to End Gun Violence
Pride Fund to End Gun Violence is the only national LGBTQ political organization focused solely on gun violence prevention. Pride Fund was founded by Jason Lindsay, a gay Iraq War veteran, in the days following the June 2016 mass shooting at Pulse, a gay nightclub in Orlando, Florida. When it occurred, the Pulse nightclub shooting was the deadliest mass shooting in U.S. history. Pride Fund supports sensible gun policy reforms while championing LGBTQ safety and equality by advocating for legislation and supporting candidates at the state and federal levels.
To learn more, visit www.pridefund.org . Like on Facebook at: www.facebook.com/pridefund and follow on Twitter: @Pride_Fund