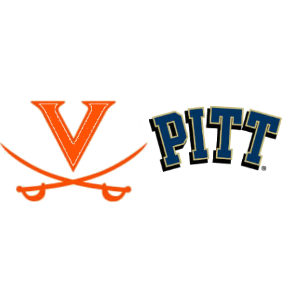 It was a back-and-forth contest on Friday night, but the Panthers came out on top as No. 20 Virginia (6-7) fell at No. 24 Pittsburgh (10-6) by a score of 19-17.
Bonus points proved to be the deciding factor as Pittsburgh picked up one fall on the night to grab the victory in a night that saw four weight classes decided by two points or fewer. Three were decided by one point.
After falling behind early with losses in the first two weight classes, Virginia got three straight wins from Justin Van Hoose (Kirksville, Mo.) at 141 pounds, Chris Yankowich (Norristown, Pa.) at 149 pounds and Andrew Atkinson (Lynchburg, Va.) at 157 pounds to pull in front of the Panthers.
Van Hoose posted an upset, defeating No. 10 Mike Racciato with an 11-4 decision to get the Cavaliers on the board. Yankowich also posted a decision in his win over Robert Lee, while Atkinson picked up the major decision in his victory.
Pittsburgh would move back in front with a decision at 165 pounds and a fall at 174 pounds before Virginia would get back-to-back wins from Tyler Askey (Newnan, Ga.) and No. 13 Zach Nye (Enola, Pa.) at 197 pounds. Askey posted a major decision in his bout, while Nye picked up a decision to give the Cavaliers the lead.
Pittsburgh then picked up a one-point decision at heavyweight to move back in front of the Cavaliers and claim the dual meet.
No. 24 Pittsburgh 19, No. 20 Virginia 17
125: Lorenzo Bentley (Pitt) dec. Nick Herrmann (UVA), 3-1; PITT 3-0
133: No. 17 Dom Forys (Pitt) major dec. Joseph Martinez (UVA), 16-5; PITT 7-0
141: Justin Van Hoose (UVA) dec. No. 10 Mikey Racciato (Pitt), 11-4; PITT 7-3
149: Chris Yankowich (UVA) dec. Robert Lee (Pitt), 3-2; PITT 7-6
157: Andrew Atkinson (UVA) major dec. Ronnie Garbinsky, 11-1; UVA 10-7
165: Cody Wiercioch (Pitt) dec. Garrett Peppelman (UVA) 12-6; Tied 10-10
174: Te'Shan Campbell (Pitt) pinned Drew Hull (UVA), 3:21; PITT 16-10
184: Tyler Askey (UVA) major dec. Zach Bruce (Pitt), 13-3; PITT 16-14
197: No. 13 Zach Nye (UVA) dec. Nick Bonaccorsi (Pitt), 3-2; UVA 17-16
285: Ryan Solomon (Pitt) dec. Patrick Gillen (UVA), 3-2; PITT 19-17