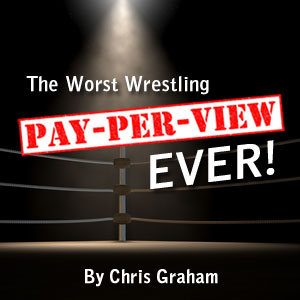 Chris Graham offers a glimpse behind the curtain of the pro wrestling business in his new book, The Worst Wrestling Pay-Per-View Ever, the inside story of the 2011 Night of Legends, a live pay-per-view event featuring stars including WWE Hall of Famers Kevin Nash, "Hacksaw" Jim Duggan and The Rock 'n Roll Express that was met with almost universally negative reviews.
Graham, the editor of Augusta Free Press, was a member of the two-man creative team behind the event, developing and writing storylines for some of the biggest names in the wrestling business, as a show that had originally been envisioned as a local indy house show grew into more with an explosion of interest on social media.
"It's always bothered me that the show didn't come off the way we had it planned, but that's part of the business, as I would learn later," said Graham, an award-winning journalist, author of six books and ESPN3 college baseball and college football color commentator.
Graham also worked for six years in the pro wrestling business as a writer and promoter. He also counts himself as a lifelong fan of pro wrestling.
"As a fan, I think it can be helpful to hear from somebody who has worked on the other side of the curtain as to how the business really works, and when I say that, I don't mean to make it out to be something sinister or underhanded. Wrestling is a lot of fun, but, man, yeah, it can be hard to make sense of it when you're backstage," Graham said.
And, no, for the record, Graham doesn't think Night of Legends was "the worst wrestling pay-per-view ever."
"One thing they can't take away from me is that I was able to help make a live wrestling pay-per-view show happen. I wish things had worked out differently, but, hey, I wouldn't trade my time in the wrestling business for anything in the world," Graham said.
The book is available for just $3.49 on Amazon.com.
About Chris Graham
Chris Graham, the editor of AugustaFreePress.com, an award-winning journalist and editor, is a 1994 graduate of the University of Virginia, and has covered Virginia politics since 1997.
An author of six books, Chris also co-wrote a book on the history of University of Virginia basketball, Mad About U: Four Decades of Basketball at University Hall, which was published in 2006.
Chris has covered University of Virginia sports since 1995, and is a commentator on ESPN3 college football and baseball broadcasts.
This fall, Chris will serve as the play-by-play voice on radio broadcasts for VMI football, marking his fourth season as a broadcaster for Keydets' radio broadcasts.
He is a member of the Football Writers Assocation of America, the U.S. Basketball Writers Association and the National Collegiate Baseball Writers Association.
From 2009-2014, Chris was the play-by-play voice of the Waynesboro Generals, a team competing in the Valley Baseball League, a premier college summer baseball league affiliated with Major League Baseball and the NCAA.
The former co-host of "ACC Nation," a syndicated radio show that ran for four years, ending in 2007, Chris is currently a contributor to "The Mark Moses Show" on 95.9-The Fan in Melbourne, Fla.
Chris also served as a member of the creative team and on-air TV commentator for Awesome Wrestling Entertainment on AWE's Night of the Legends live pay-per-view event in 2011.
Chris wrote a book on that experience, The Worst Wrestling Pay-Per-View Ever, that was published in 2018.
He is also the former co-host of "Viewpoints" on WVPT, a weekly news affairs TV show that aired from 2016-2017.