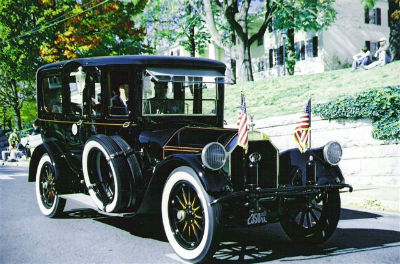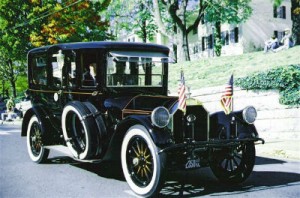 The Woodrow Wilson Presidential Library and Museum is pleased to announce that President Woodrow Wilson's 1919 Pierce-Arrow Presidential Limousine is once again on the road; this time traveling to the National Mall in Washington D.C. where it will be on display as part of the Celebration of National Automotive Heritage and Culture.
Ten automobiles will be exhibited at the event, one per decade from the 1890's to the 1980'. Wilson's Pierce-Arrow was chosen as a Car of the Decade representing the 1910's. The event, sponsored by the Historic Vehicle Association partnering with Volkswagen, and in collaboration with the Trust for the National Mall, will be the first ever Cars At The Capital gathering. Designed to raise awareness of and engagement in the preservation of our automobile heritage, the event will be open to the public on Saturday, May 3 from 6:30am- 5:00pm and again on Sunday, May 4 from 9:30am to 5:00pm at the National Mall in Washington D.C. between 12th and 14th Streets. There will be special exhibits, educational displays, and lecture series throughout both days.
Accompanying the Presidential Limousine to the National Mall will be the Wilson Library's Curator Andrew Philips and several members of the Library's Pierce-Arrow Committee including Jim Ridenour, Al Markunas, and Richard Obenschain.
President Wilson first rode in his 1919 Pierce-Arrow limousine when he returned from france after negotiating the Treaty of Versailles after World War I. He fell in love with the car, and his friends bought it for him after his second term ended. The year after Woodrow Wilson's death, his widow, Edith Bolling Galt Wilson, gifted the car to a group of citizens in Staunton, Virginia explaining in part to Dr. Edward Alderman, chairman of the National Advisory Committee for the Wilson Memorial:
"I am writing you in regard to the old Pierce-Arrow Limousine which Mr. Wilson used on so many historic days: for instance he rode from the Peace Conference in it and it was the car in which he rode from the Capital after leaving office to his own home…I did not feel, in view of all these associations, that I could sell it… and it occurred to me that perhaps the Woodrow Wilson Birthplace Memorial might like to have it, because of this association…"
The Pierce-Arrow, which has been restored to full working condition, is owned by and displayed at the Woodrow Wilson Presidential library and Museum in Staunton, Virginia where the President was born.