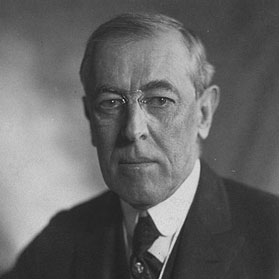 On November 11, 1918, President Wilson announced the armistice, or temporary halt of fighting in World War I, and proclaimed that November 11 would forever be Armistice Day in the United States.
The armistice took effect on the 11th hour of the 11th day of the 11th month. The day has evolved into Veterans Day during which all veterans are remembered and honored, and, for years, the entire country observed a moment of silence at 11:00 a.m.
In recognition of President Woodrow Wilson's involvement in the formation of Veterans Day all veterans, active military members, and their families will be entitled to free admission to the Woodrow Wilson Presidential Library and Museum on Tuesday, November 11. Admission includes guided tours of President Wilson's Birthplace and self-guided tours of the Woodrow Wilson Museum, which includes the President's 1919 Pierce-Arrow limousine and the new World War I trench exhibit.
Those interested in more information about the Veterans Day free admission offer should contact Bob Robinson at the Presidential Library, at (540) 885-0897, ext. 102, or by email at [email protected].