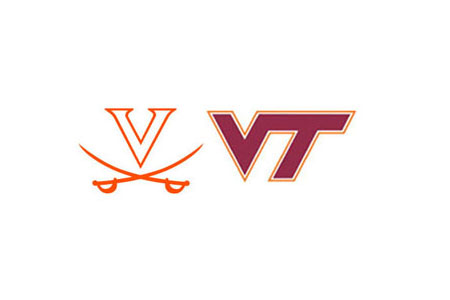 The UVA women's basketball team (11-3, 1-0 ACC) opened Atlantic Coast Conference play with a 62-47 victory at Virginia Tech (9-6, 0-2 ACC) on Sunday (Jan. 4) in a Commonwealth Clash game in Blacksburg, Va.
"I am really pleased with the effort and intensity that we showed for 40 minutes," said Virginia head coach Joanne Boyle. "Virginia Tech did a good job of fighting back in the first half, but we did an amazing job of coming out in the second half and being focused and trying to put the game away. To ramp it up the way we did, we had everyone participate offensively and defensively. Getting to the free throw line in the second half allowed us to press and really forced our hand to have to become more aggressive, which was good for us."
The Cavaliers hit eight three-pointers, including making five in the first half, to power the team to its 17th-consecutive win over Virginia Tech.
Sophomore guard Breyana Mason (Woodbridge, Va.) was one of three Cavaliers to finish the game scoring in double digits, putting up 16 points, including making a pair of three-pointers. Freshman guard Mikayla Venson (Arlington, Va.) scored 13 points, going 5-of-11 from the field overall and 3-of-7 from three-point range. Senior center Sarah Imovbioh (Abuja, Nigeria) had 11 rebounds while also scoring nine points.
Virginia Tech's Rachel Camp scored 23 points, including making one of VT's three three-pointers.
Back-to-back-to-back three-pointers from Mason, Venson and freshman guard Aliyah Huland El (Randolph, N.J.) gave Virginia an 18-7 lead with 11:46 remaining in the first half. Virginia Tech had a span of over 10 minutes in the period in which they did not make a field goal but broke the slump by finishing the half on a 14-2 run, including a personal 9-0 run by Camp that included back-to-back and-ones followed by a fast break layup, over the final 4:30 of the period. Virginia took a 29-25 lead into halftime.
Virginia opened the second half on a 16-2 run with three-pointers from Mason and Venson helping to give Virginia a 41-27 lead with 17:16 remaining. The Cavaliers pushed the lead out to 20 on a pair of Mason free throws with just under 10 minutes left in the game. Tech's Kelsey Conyers hit a three pointer with 1:02remaining to cut the lead to 14, 61-47, as close as the Hokies would come in the final half of the period.
Virginia Tech held a 37-36 advantage in rebounding. The Cavaliers shot 41.1 percent (23-of-56) with the Hokies making 28.8 percent of their shots (15-of-52).
The Cavaliers improved to 18-2 against the Hokies in ACC contests and 43-10 all-time against VT. Tech's last victory in the series was on Jan. 22, 2007.
This game was part of the 2014-15 Commonwealth Clash presented by Virginia529, which is a head-to-head, points-based competition between the athletic teams at Virginia and Virginia Tech.  The Commonwealth Clash encourages a friendly, statewide rivalry between the two schools across all school-sponsored sports with 21 individual event points on the line.  Fans are also encouraged to support their team through a fan-based point.  The school that accumulates 11.5 points or more will be crowned the winner and take home the Virginia529 Commonwealth Clash trophy. With the half-point earned in today's game, the Cavaliers now lead the Hokies, 5.0-1.5.
The Cavaliers will be back home on Thursday, Jan. 8, hosting Wake Forest at 7 p.m. at John Paul Jones Arena.
Single-game ticket prices for all home games are $10 for Reserved seating, $8 for adult General Admission and $6 for youth (18 & under), senior (60 & over) and UVa faculty/staff General Admission. Fans may purchase home game tickets through the Virginia Athletics Ticket Office online at VirginiaSports.com, by phone and in person. The Virginia Athletics Ticket Office is located in Bryant Hall at Scott Stadium and openMonday through Friday from 9 a.m. until 5 p.m. Telephone purchases can be made by calling 1-800-542-UVA1 (8821) or locally at 434-924-UVA1 (8821).